BEST OF 2022
BEST OF 2022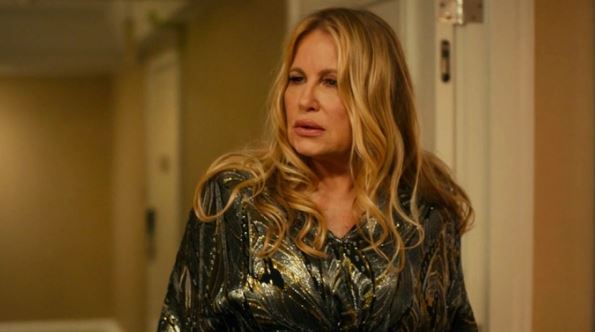 Jennifer Coolidge in White Lotus Season 2
In 2022 there was a plethora of good television, movies and art shows. I know we had more than our share of bad news---but we are going to concentrate on the good news in this Notebook post.
TELEVISION
First---I need to confess that I am not a sci-fi, fantasy or horror fan--why do women do such stupid things in horror films---walk down a dark street when obviously something horrible will likely happen? I can understand why there are many people who love sci-fi and fantasy---I'm just not one of them. Nothing you will read here will recommend any of these genres.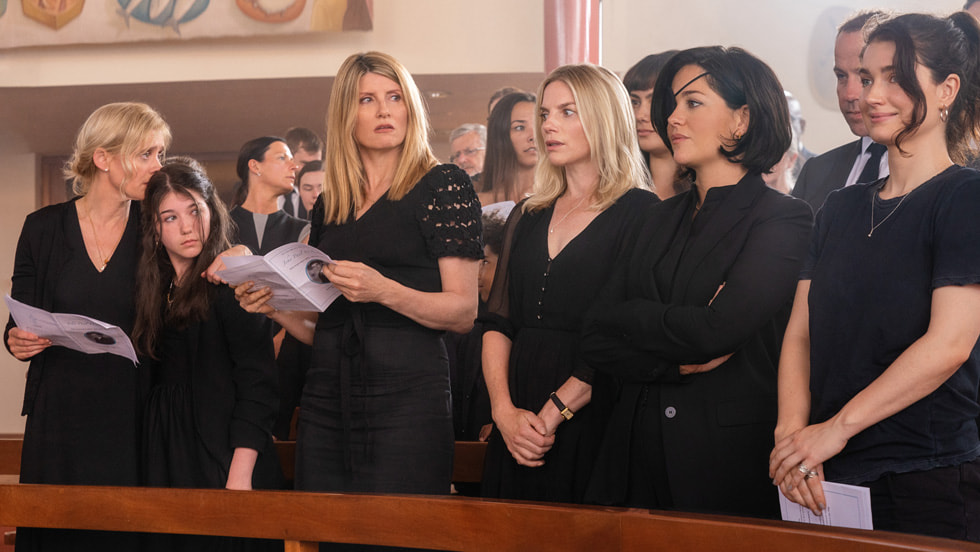 Anne-Marie Duff, Sharon Horgan, Eva Birthistle, Sarah Greene and Eve Hewson
BAD SISTERS
Jim and I literally loved this series---written by Sharon Horgan, who wrote Catastrophe----it is one of my very favorite shows. Horgan is in it and is great---so is Claes Bang, who plays the worst possible husband you could ever dream up. Be glad you can stream the entire series now. You will not have to wait for Apple TV+ to air it each Friday as we did.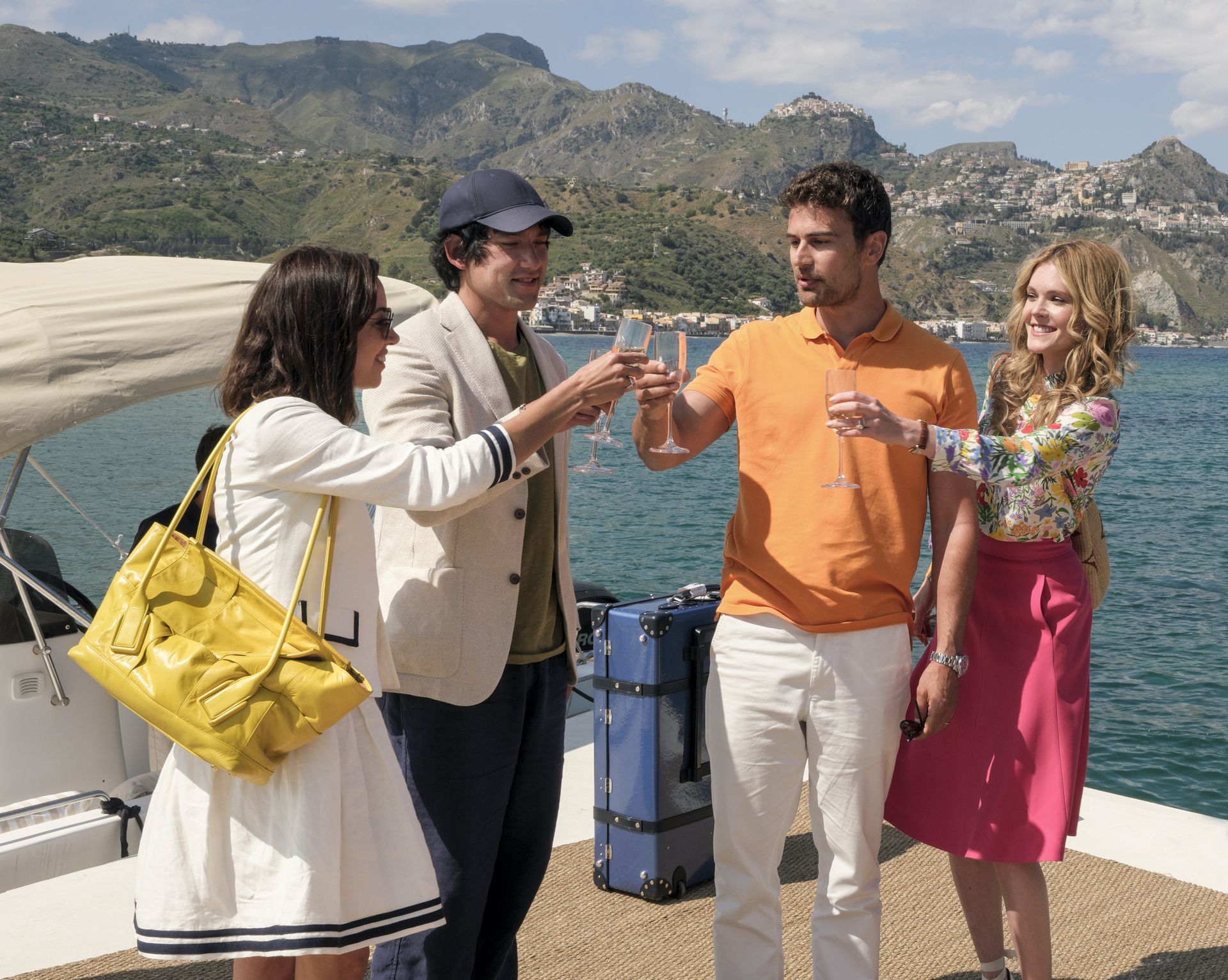 Aubrey Plaza, Will Sharpe, Theo James and Meghann Fahy
WHITE LOTUS SEASON 2
I adore Mike White---he deserves all great things that have happened to him (winning multiple Emmys for Season 1 of White Lotus). Season 2 is actually better in my opinion---there will be a Season 3. You will love the locations, the acting and the suspense. Disclaimer: If you don't want to see sexual scenes, this is not for you. Watch on HBO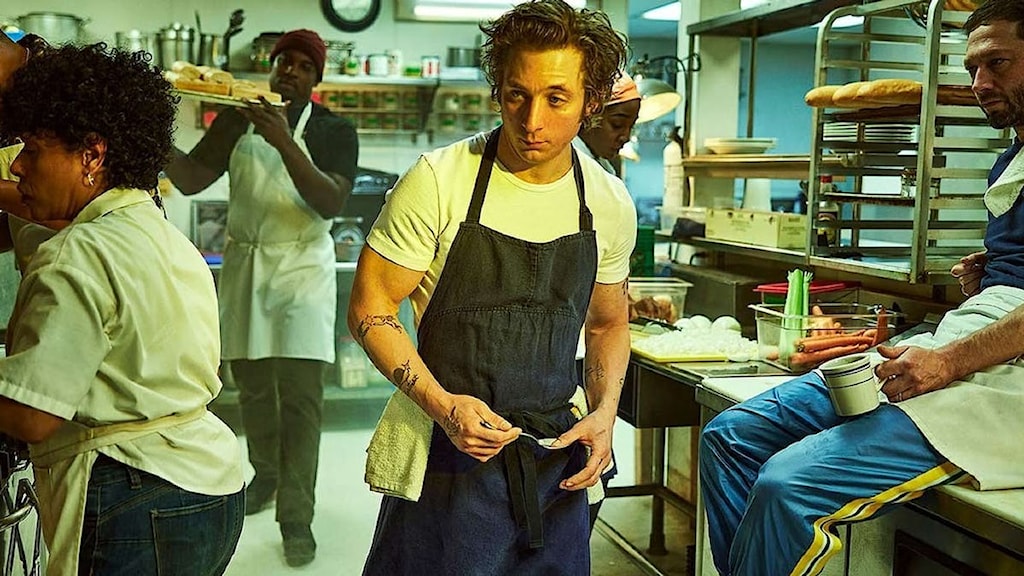 Jeremy Alan White
THE BEAR
This is a bit difficult to get into but when you do, you will love Jeremy Alan White, and who doesn't love to watch a great chef? I'm hooked and cannot wait for the next season. Watch it on FX or Hulu.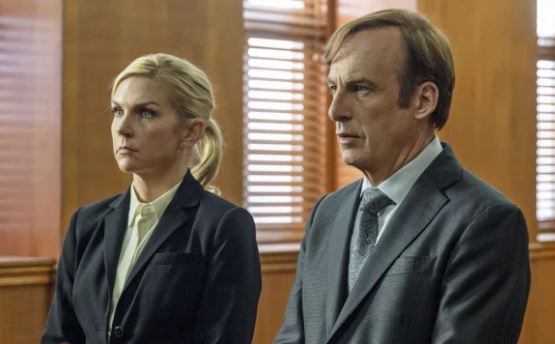 Rhea Seehorn and Bob Odenkirk
BETTER CALL SAUL SEASON 5
Screen writing and directing doesn't get better than this---if you love art, this show is right up your alley because the direction by Vince Gilligan is just that. I adore Rhea Seehorn and Bob Odenkirk---the script keeps you guessing up until the last minute. Watch on AMC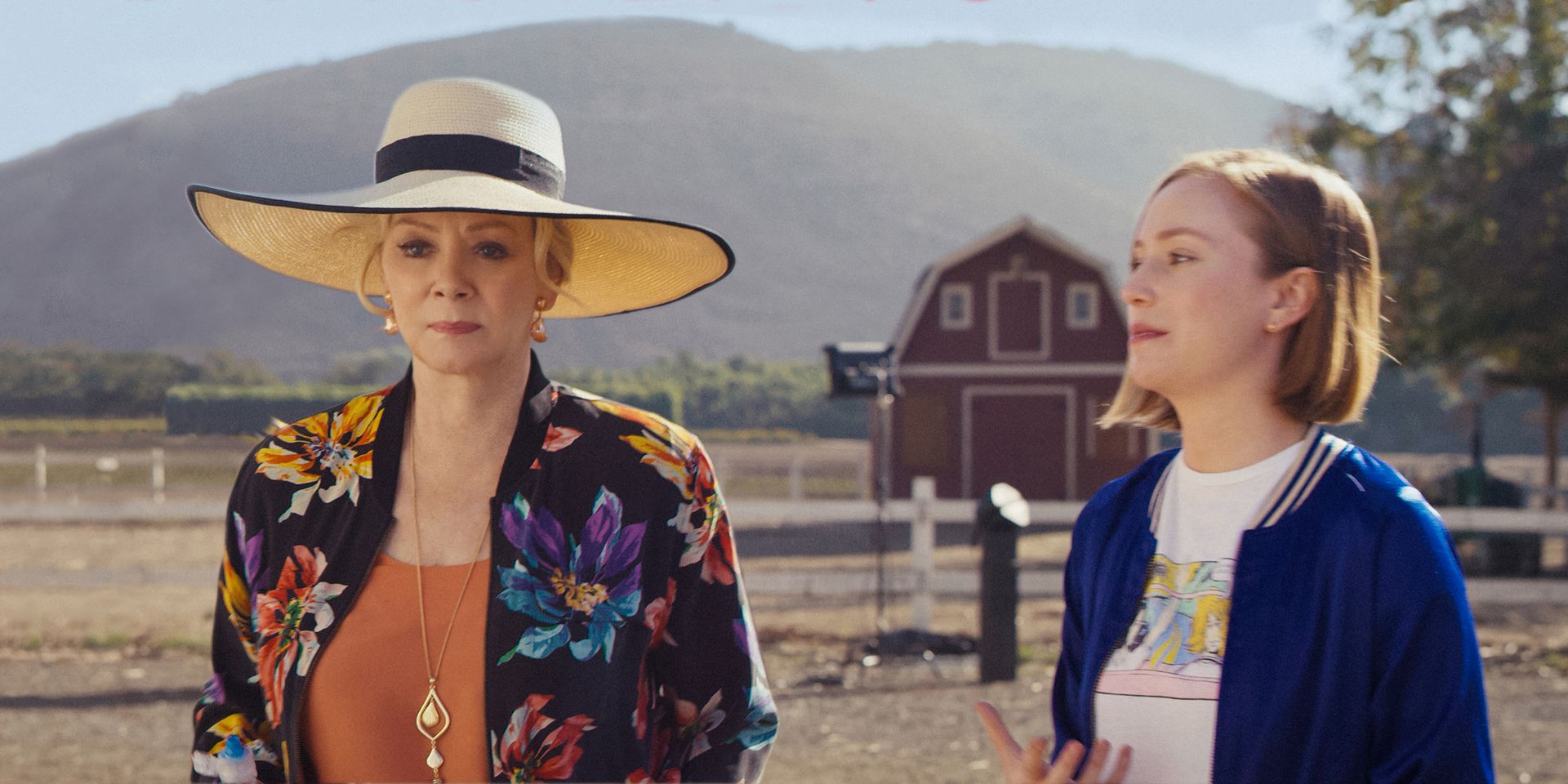 Jean Smart and Hannah Einbinder
HACKS SEASON 2
Jean Smart and Hannah Einbinder are wonderful---they both have perfect timing. Funny and entertaining. Apple TV+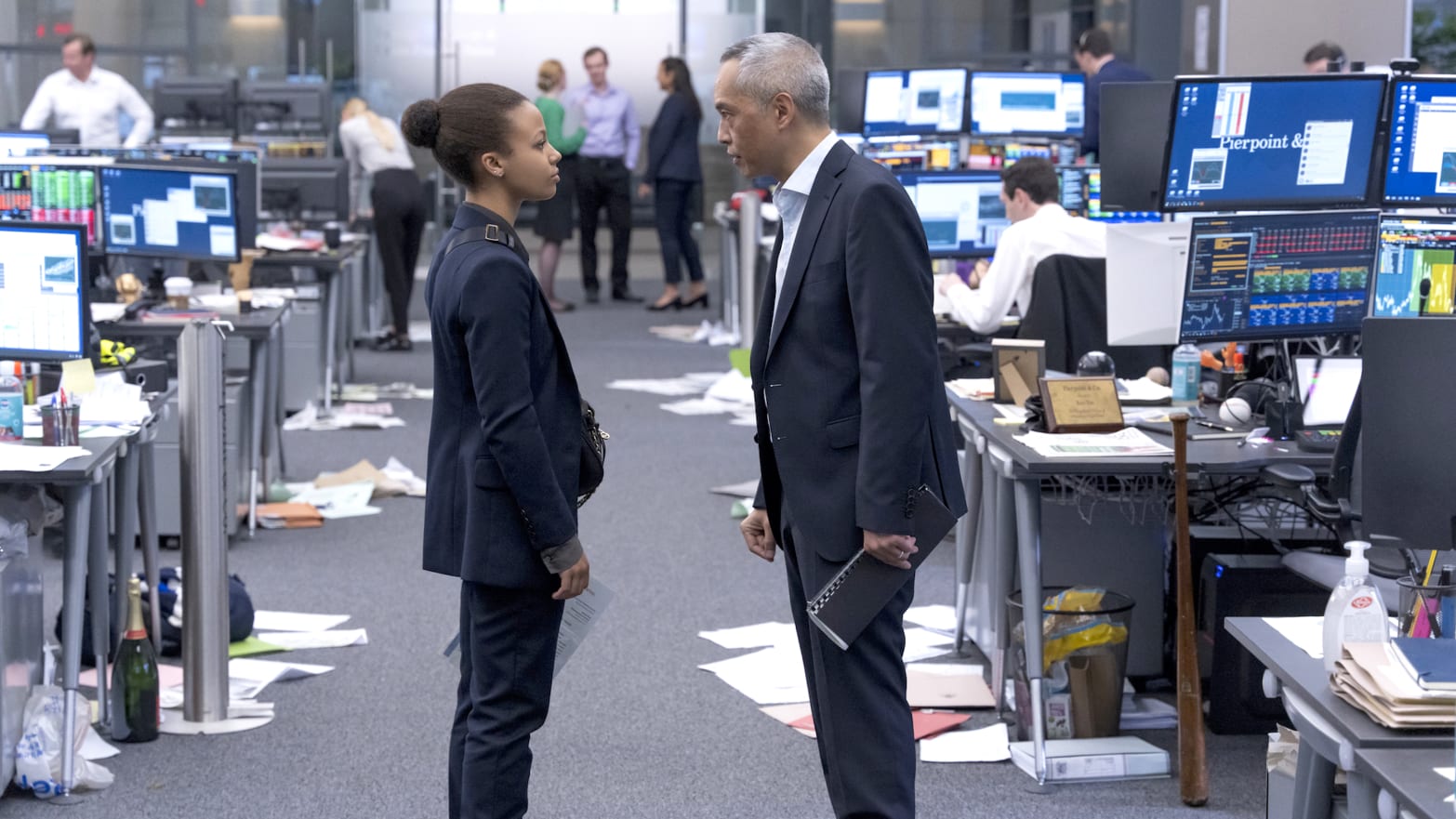 Myha'la Herrold and Ken Leung
INDUSTRY SEASON 2
We watched Season 1 of this last year and it was ok, not great. I thought Season 2 was really worth watching but you will have to watch the first one to understand it. This is not at the top of my list, but if you work in the financial industry, take a look. HBO MAX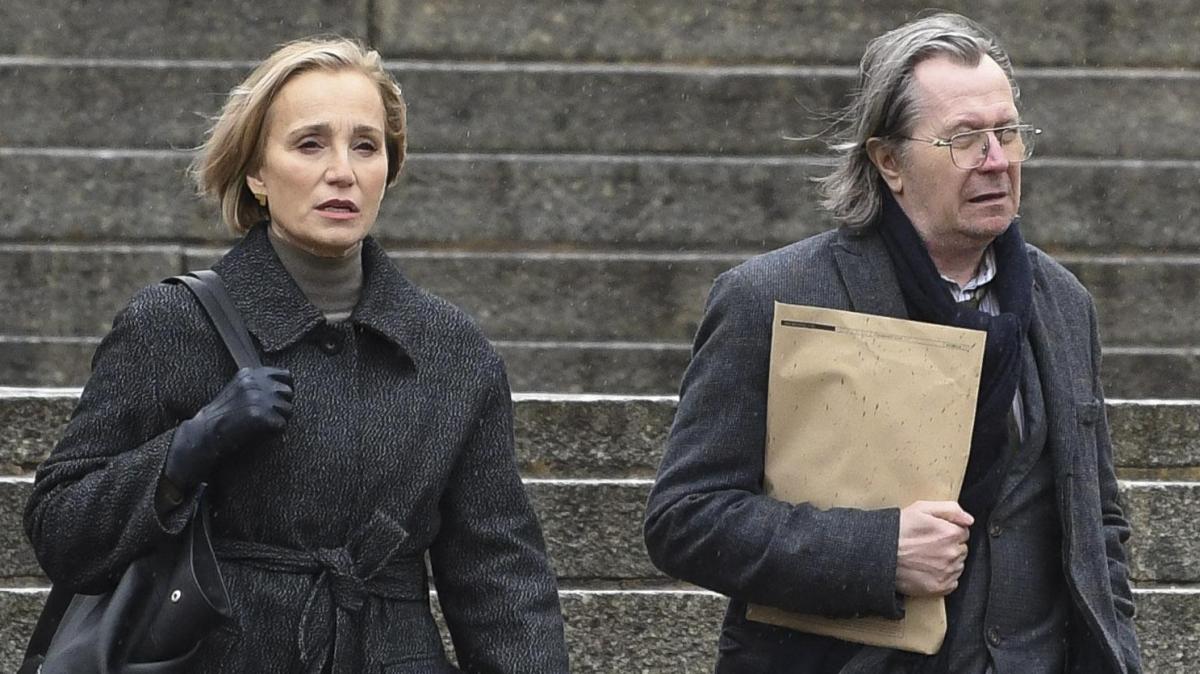 Kristen Scott Thomas and Gary Oldman
SLOW HORSES SEASON ONE AND TWO
This show should be at the top of my list---a very dark comedy about MI5 and the misfits who are sent to Slough House with Gary Oldman as the most disgusting head of this truly miserable group. Expect him to do anything repulsive. This proves that Gary Oldman is without a doubt the most versatile actor today. Anyone who can win the Oscar for Best Actor playing Winston Churchill or play George Smiley in Tinker Tailor Soldier Spy, and now, Jackson Lamb is simply beyond description.
I also enjoy Jack Lowdon as River Cartwright---he reminds me so much of my grandson Matthew Moldawer----he should be in the running for the new James Bond,and, of course, Kristen Scott Thomas---no one can play a haughty, bitchy woman like her.
Expect twists and turns by many of Britain's top notch actors. This show is adapted from Mick Herron's books and the script is written by Will Smith (not the one you are thinking about) who also wrote "Veep" Do not skip through the introduction ---love the Mick Jagger song "Strange Game" he wrote especially for this show—he's a big fan of Mick Herron and his books.
Disclaimer---if you are repulsed by truly bad hygiene, cursing and other obnoxious behavior, don't watch---but you will be missing an amazing performance by Gary Oldman—his character will surprise you.
From Apple TV+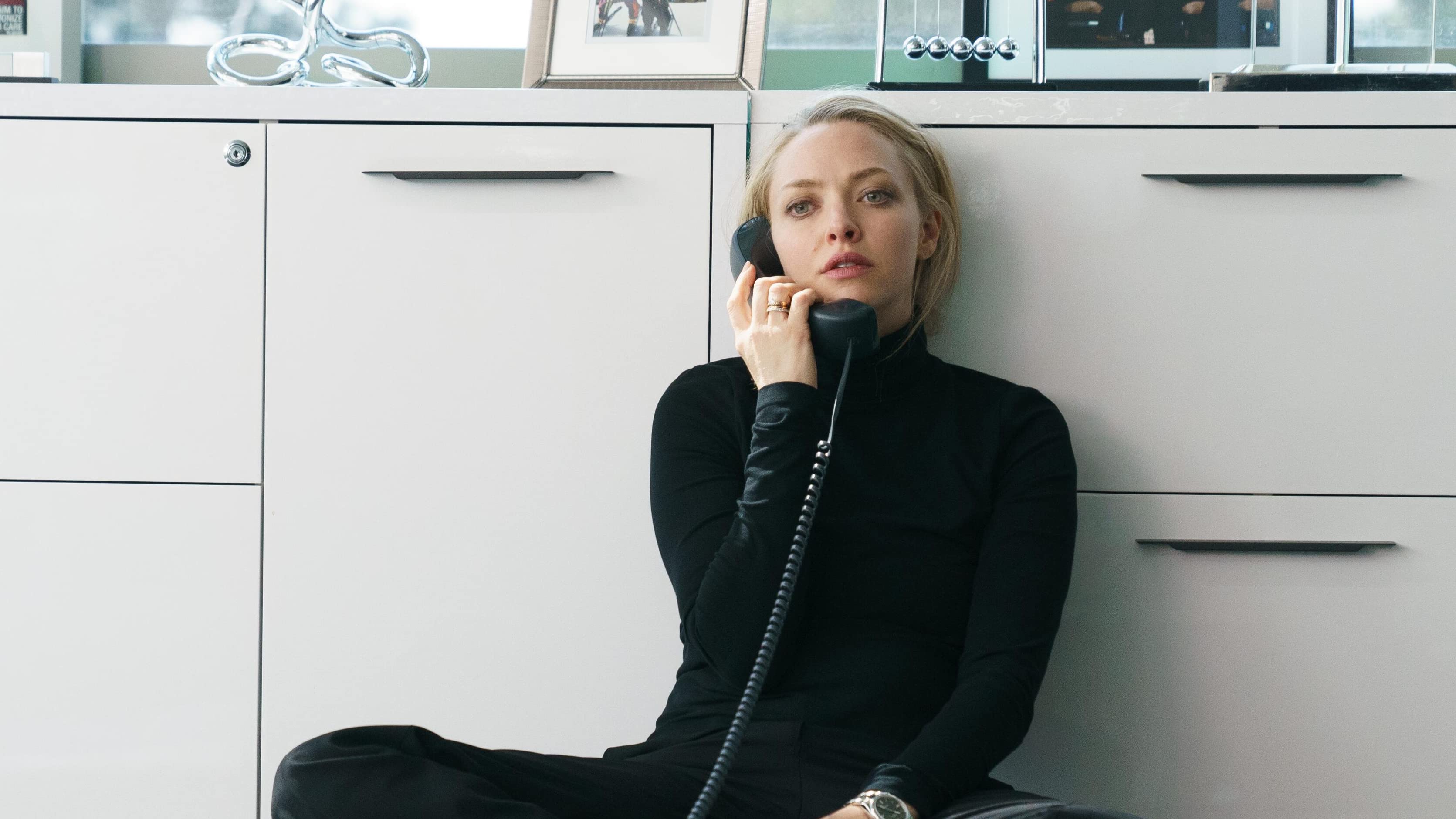 Amanda Seyfried
THE DROPOUT
I could not leave this one out---Amanda Seyfried's performance as Elizabeth Holmes is beyond stellar. Having watched the HBO documentary on Holmes, I truly could not believe how she brought her to life in this series. Watch it on Hulu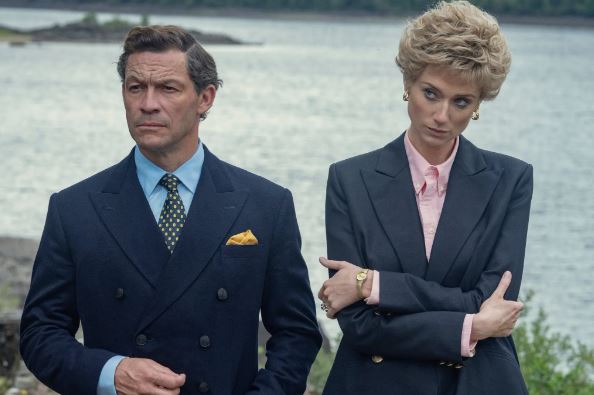 Dominic West and Elizabeth Debicki
THE CROWN SEASON 5
How can I have a list of the best without naming The Crown---It is always superb. The production values are stunning and the acting could not be better. I did have trouble with Dominic West playing Prince Charles---He is a great looking man and even though his acting was excellent, I couldn't get over thinking that this casting simply did not work. He will be in Season 6 as well. Elizabeth Debicki is perfect as Diana. She will also be back in Season 6. Watch it on Netflix
MOVIES
I will have to admit that we haven't gone to the movies very often this year so my list is fairly short---I will recommend a couple we haven't seen but want to.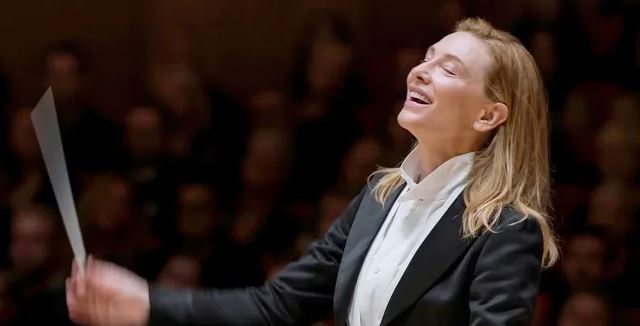 Cate Blanchette
TAR
Cate Blanchette is my favorite actor working today—I do not believe there is a one better and this movie proves it. I found this film incredibly insightful about fame, power and the problems people have dealing with it. There are moral questions that are dealt with in a chilling manner. Blanchette should win the Oscar for Best Actress for this movie. Streaming on Apple and Amazon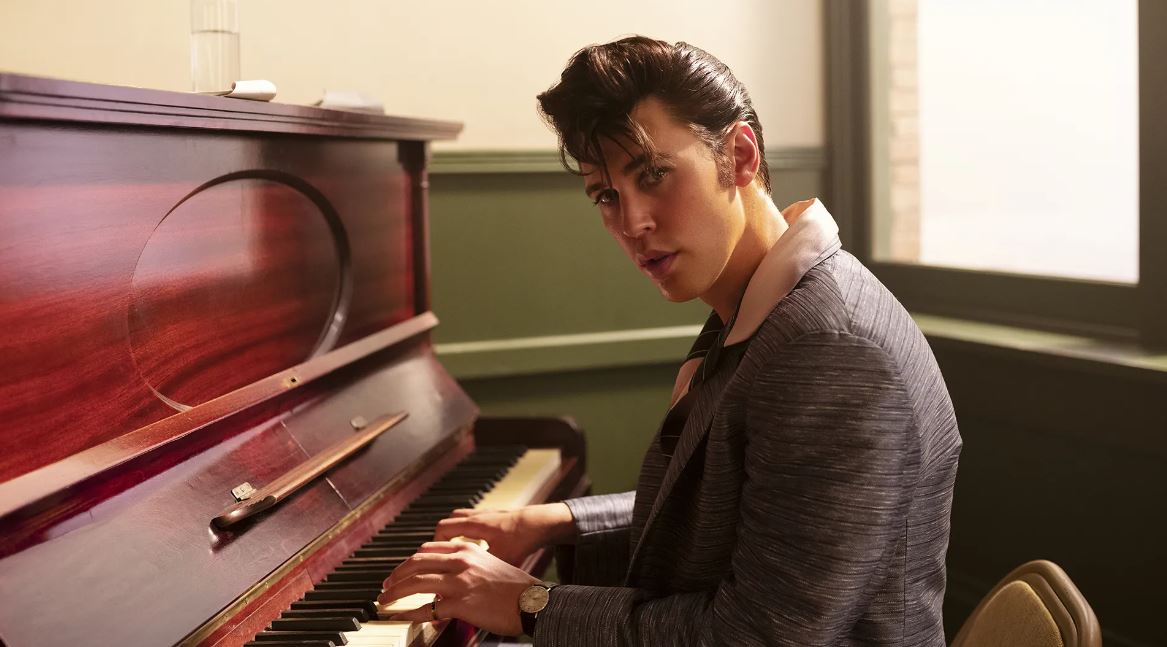 Austin Butler
ELVIS
Baz Luhrmann is not my favorite director, although I did love Australia primarily because of Nicole Kidman's performance. I was not expecting to love Elvis, however, Luhrmann knows how to get the best performance from actors and Austin Butler gives one in this movie---don't miss it because he is simply perfection. Streaming on HBO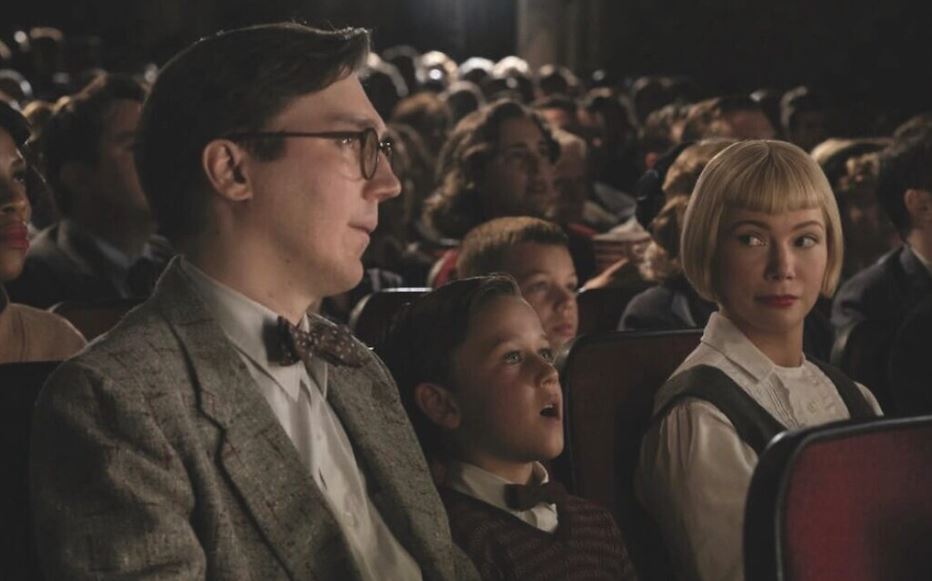 Paul Dano and Michelle Williams
THE FABLEMANS
I listened to Terry Gross interview Steven Spielberg about this movie and am so happy I did---it made me understand him and his relationship with his mother, father and moviemaking. It is well worth listening to on Fresh Air. Paul Dano and Michelle Williams are superb. Streaming on Apple and Amazon
Hae il Park and Tang Wei
DECISION TO LEAVE
Since I am an avid Alfred Hitchcock fan and have been since I was a teenager----Hitchcock had the best taste of any filmmaker I had ever seen up to that point, and movies were (and still are) my ultimate art form. His leading ladies, namely Grace Kelly, my all-time favorite actress and his leading men----Cary Grant, Jimmy Stewart and later Paul Newman, were always dazzling.
The Korean director, Park Chan-wook has always admired Hitchcock and his movies reflect this. Decision to Leave reminded me so much of Vertigo---love as an obsession with all the moodiness and romance of that film. You may want to watch it twice unless you speak Korean. There are clues throughout that are easy to miss. The direction is truly artful---that is why he won Best Director at the Cannes Film Festival this year. Streaming on Apple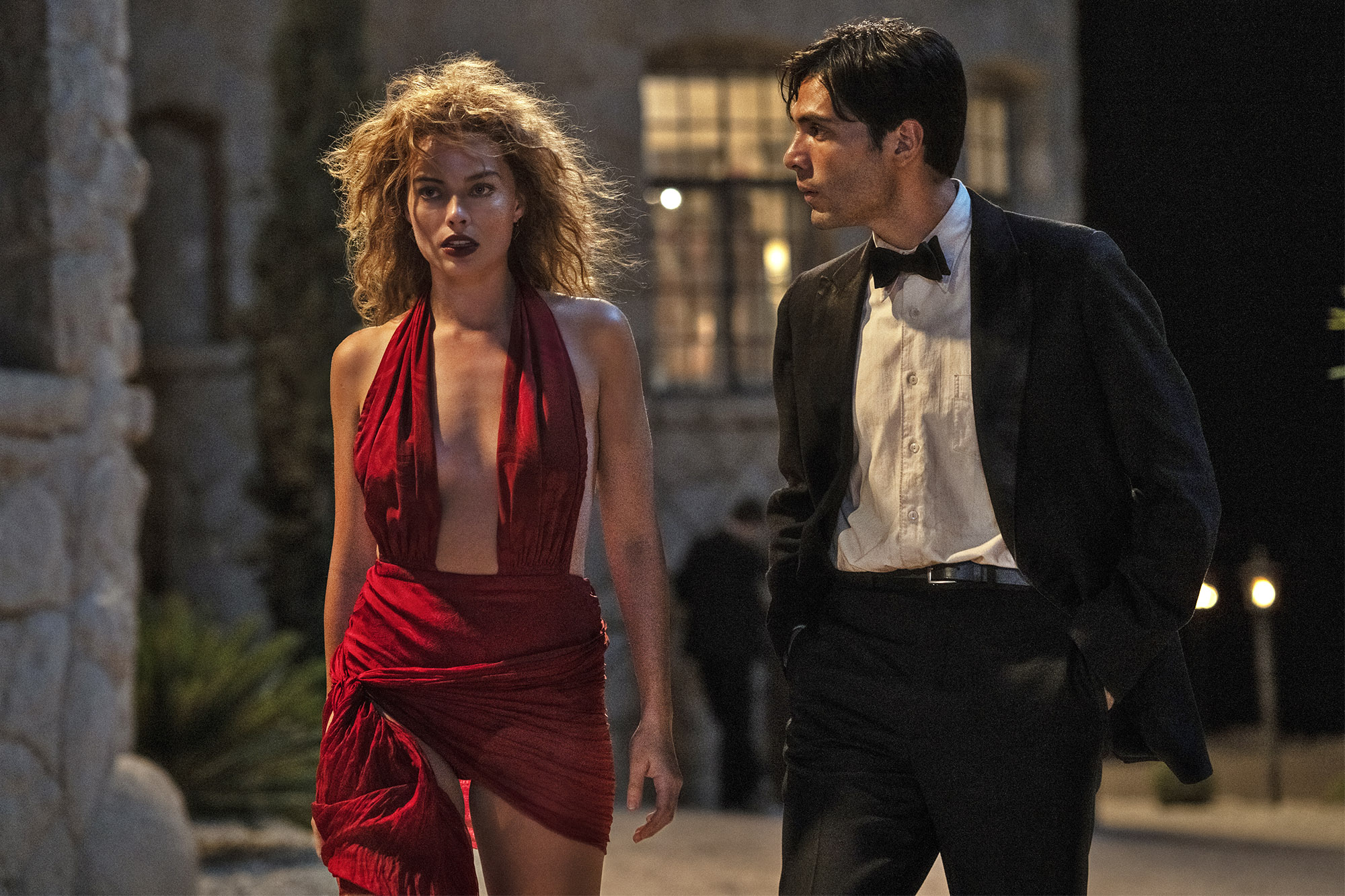 Margot Robbie and Diego Calva
BABYLON---this is my one WORST!
I mention this movie only because of the performances of Margot Robbie, Brad Pitt, Jean Smart and Diego Calva. It is 3 hours long with way too many set pieces---some of which are truly disgusting and go on far too long. Yes, I get that Hollywood was wild and crazy in the 1920's, but who needs to witness this for over 20 minutes in the opening scene. And, the horrifying 10 minutes with Tobey Maguire (this is when I turned to Jim and said Let's Go!) shouldn't have made it into the movie---there was a better way to tell that story.
I loved La La Land directed by the same director, Damien Chazelle, so I read all the reviews of Babylon and I did know what to expect. However, it was at least 10 times more decadent than I thought it would be. And, an hour too long. Even though it's meant to be seen on the big screen, watch it on tv to see the outstanding performances. If you have any thoughts of a career as a film actor in Hollywood, be glad it's 2023 not 1925.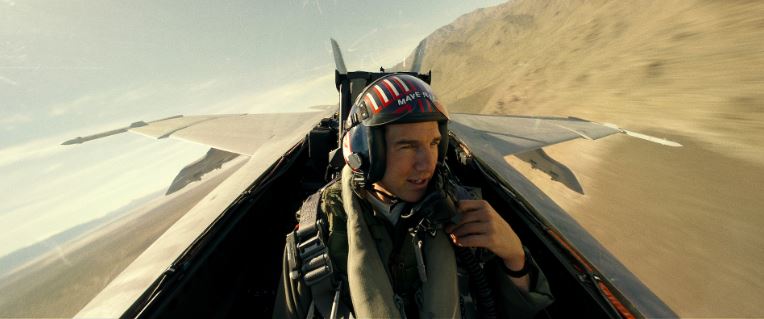 Tom Cruise
TOP GUN: MAVERICK
Honestly, I am including this because it was fun to go to the movies to see this version 36 years later. Most sequels simply cannot pull this off. I have to hand it to Tom Cruise—he made this a movie I really wasn't that interested in seeing, very watchable. Well written and well directed---no wonder it made over a billion at the box office.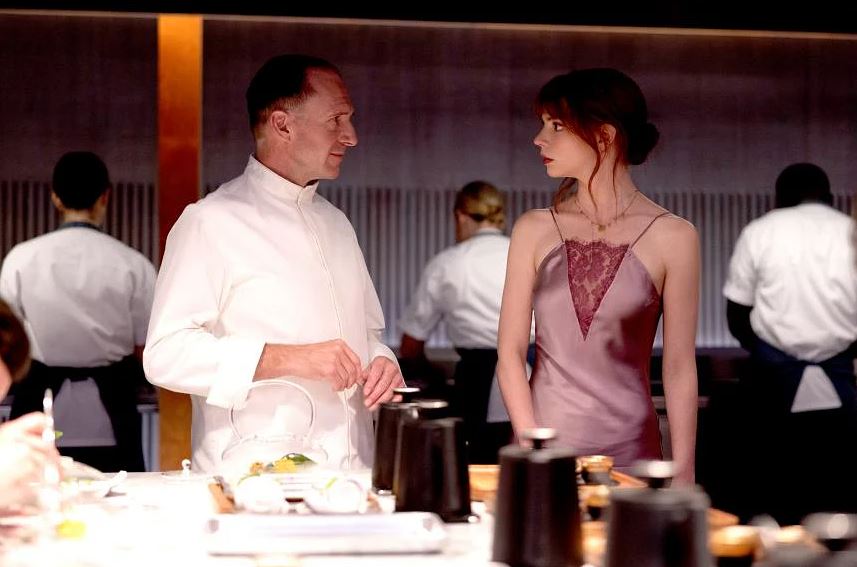 Ralph Fiennes and Anya Taylor-Joy
THE MENU
I was ready to put this Notebook to bed and then we watched The Menu last night---I had to add it. What a great satire on what has happened to our culinary industry. All the actors are perfect in their roles, but Anna Taylor-Joy stands out. Is there a more interesting actress working today? She defies description because she is truly unique. Some may classify this as a horror movie---I classify it as a satire.
ART SHOWS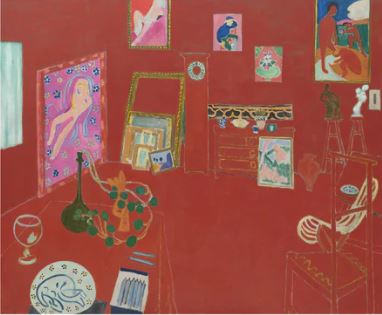 The Red Studio
MATISSE: THE RED STUDIO at MOMA/NY
What an inspiring show---very small but astonishing. Read Roberta Smith's review in the New York Times https://www.nytimes.com/2022/04/29/arts/design/red-studio-matisse-moma-shchukin.html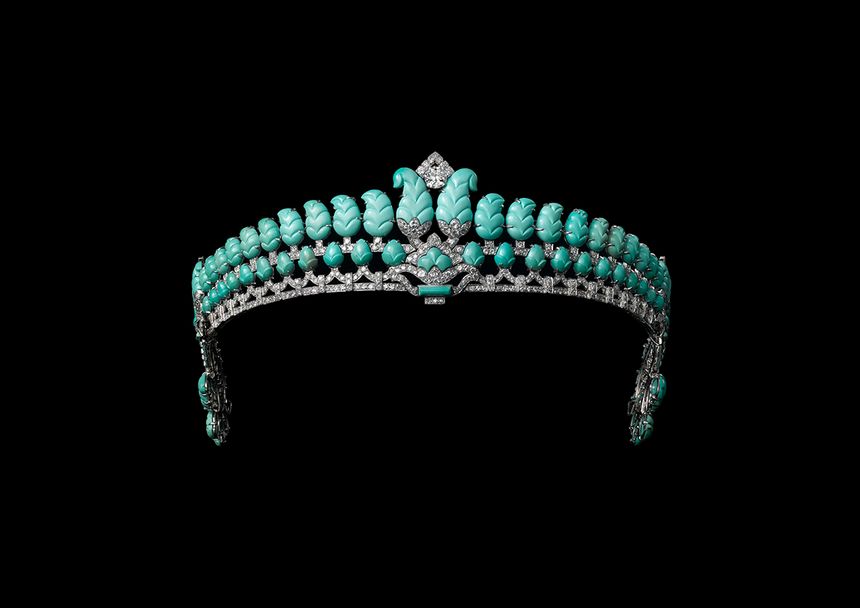 Tiara (1936)
CARTIER AND ISLAMIC ART: SEARCH OF MODERNITY
At the Dallas Museum of Art, organized with the Musée des Arts Décoratifs in Paris, this show was spectacular. It followed Van Gogh and the Olive Groves, which was a wonderful show as well.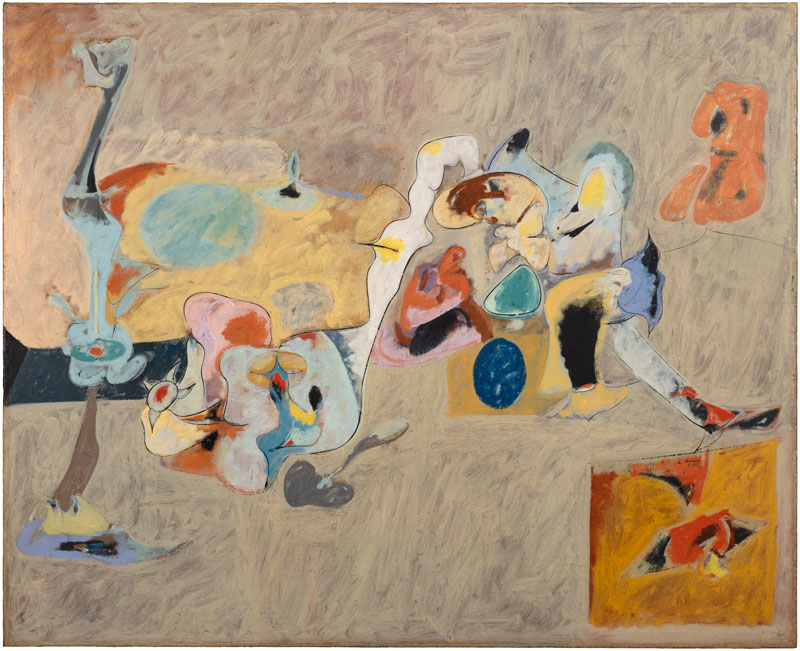 Arshile Gorky---The Plow and the Song, 1947
MODERN MASTER: A TRIBUTE TO ANNE WINDFOHR MARION at The Modern in Ft. Worth
Jim and I were so fortunate to see many of these works at Anne Marion's house in Ft. Worth several years ago. But this show is much larger and we plan to see it before January 8 when it closes. Her collection is simply astonishing.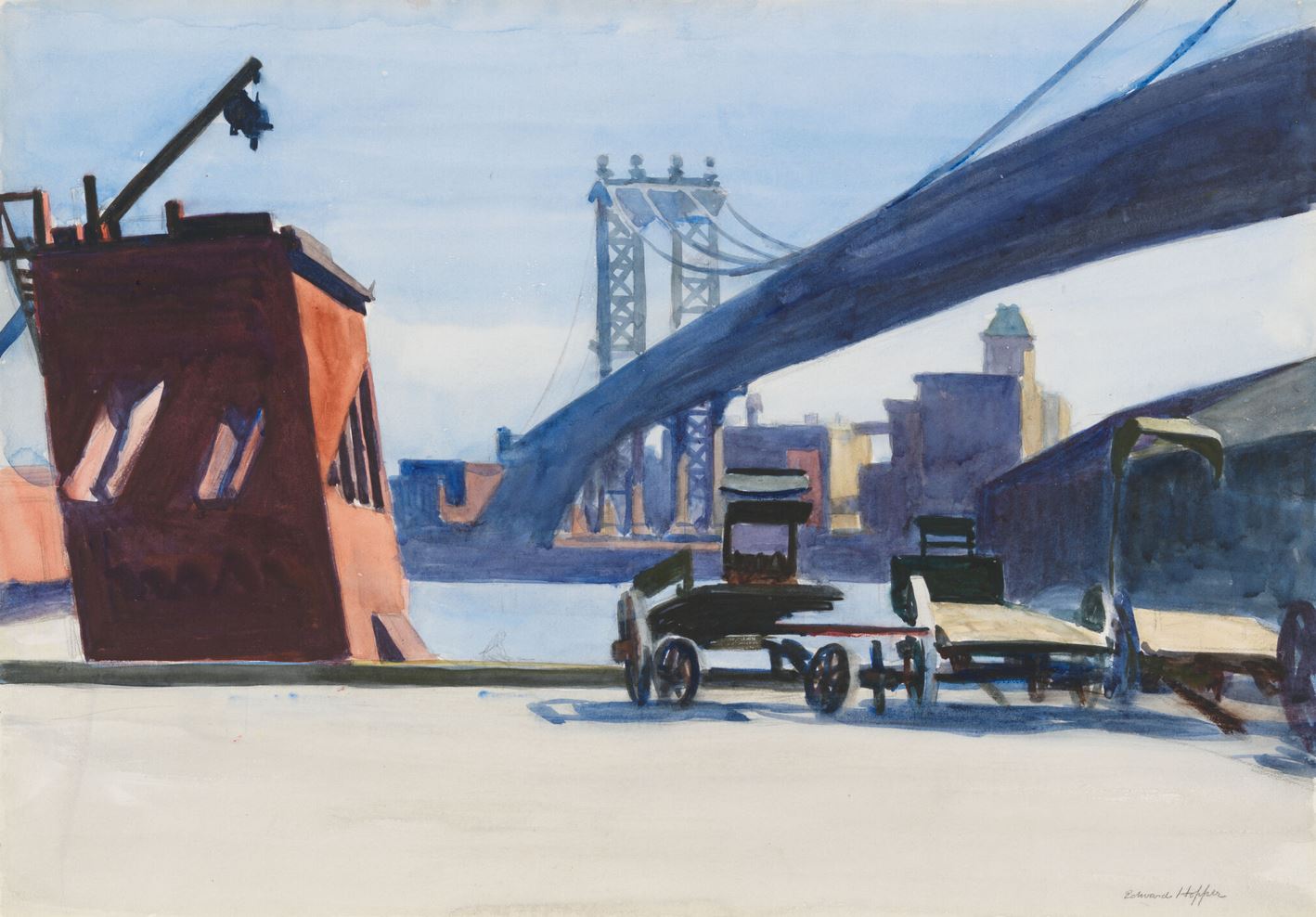 Edward Hopper, Manhattan Bridge, 1925–26
EDWARD HOPPER'S NEW YORK
A wonderful show---If you like Hopper, don't miss it---on until March 5 at The Whitney in New York.
BOOKS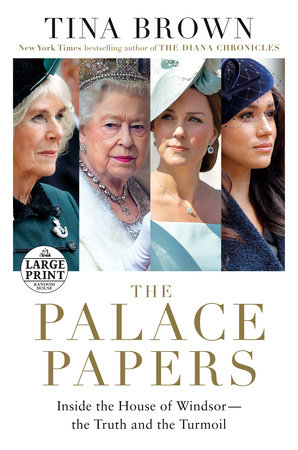 THE PALACE PAPERS by Tina Brown
If you are wondering who to blame for the crisis in the British Royal Family (especially after watching Harry and Meghan on Netflix), this book will answer most of your questions. Brown did much research and this book addresses what many of us have been wondering about.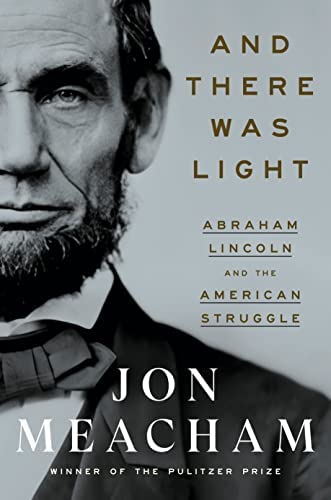 AND THERE WAS LIGHT: ABRAHAM LINCOLN AND THE AMERICAN STRUGGLE by Jon Meacham
Meacham is one of my favorite authors and historians. This is the story about a man of integrity and how difficult his path was. If you are interested, please read this review in Publishers Weekly https://www.publishersweekly.com/9780553393965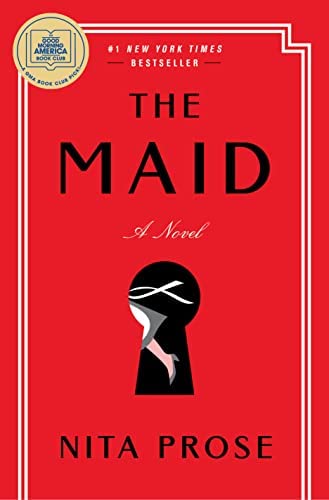 THE MAID by Nita Prose
This is not what the Netflix series Maid was based on. This is a mystery/thriller that is on my iPad and I can't wait to read. There will be a movie and Florence Pugh is being talked about as the lead.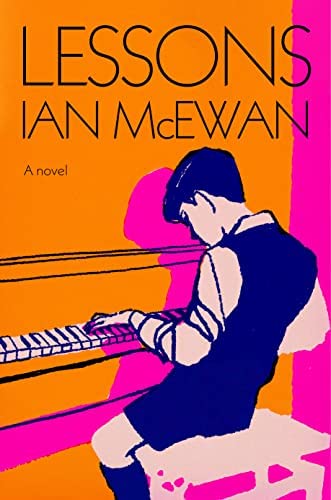 LESSONS by Ian McEwan
McEwan's books are always a bit shocking, but he knows how to tell an engrossing story. This one is disturbing----certainly, not his best book, but always worth a read.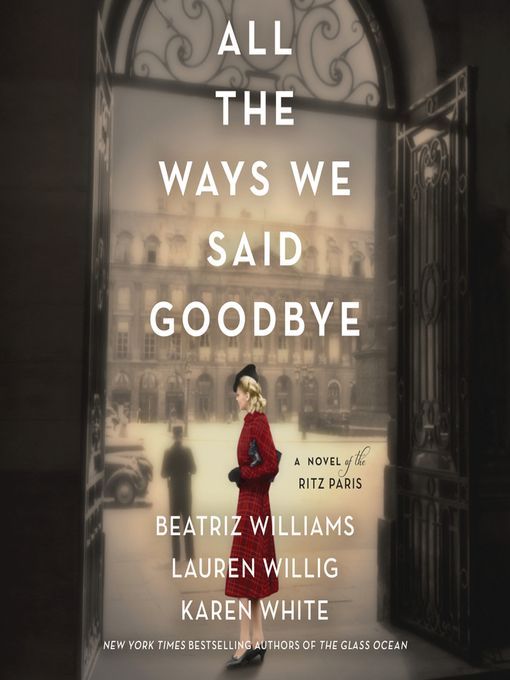 ALL THE WAYS WE SAID GOODBYE by Beatriz Williams, Lauren Willig and Karen White
I can't wait to read this novel---written by 3 different writers and all about 3 women, 3 generations from WWI to the 1960's living at The Ritz in Paris. If you are into nostalgia, this one's for you.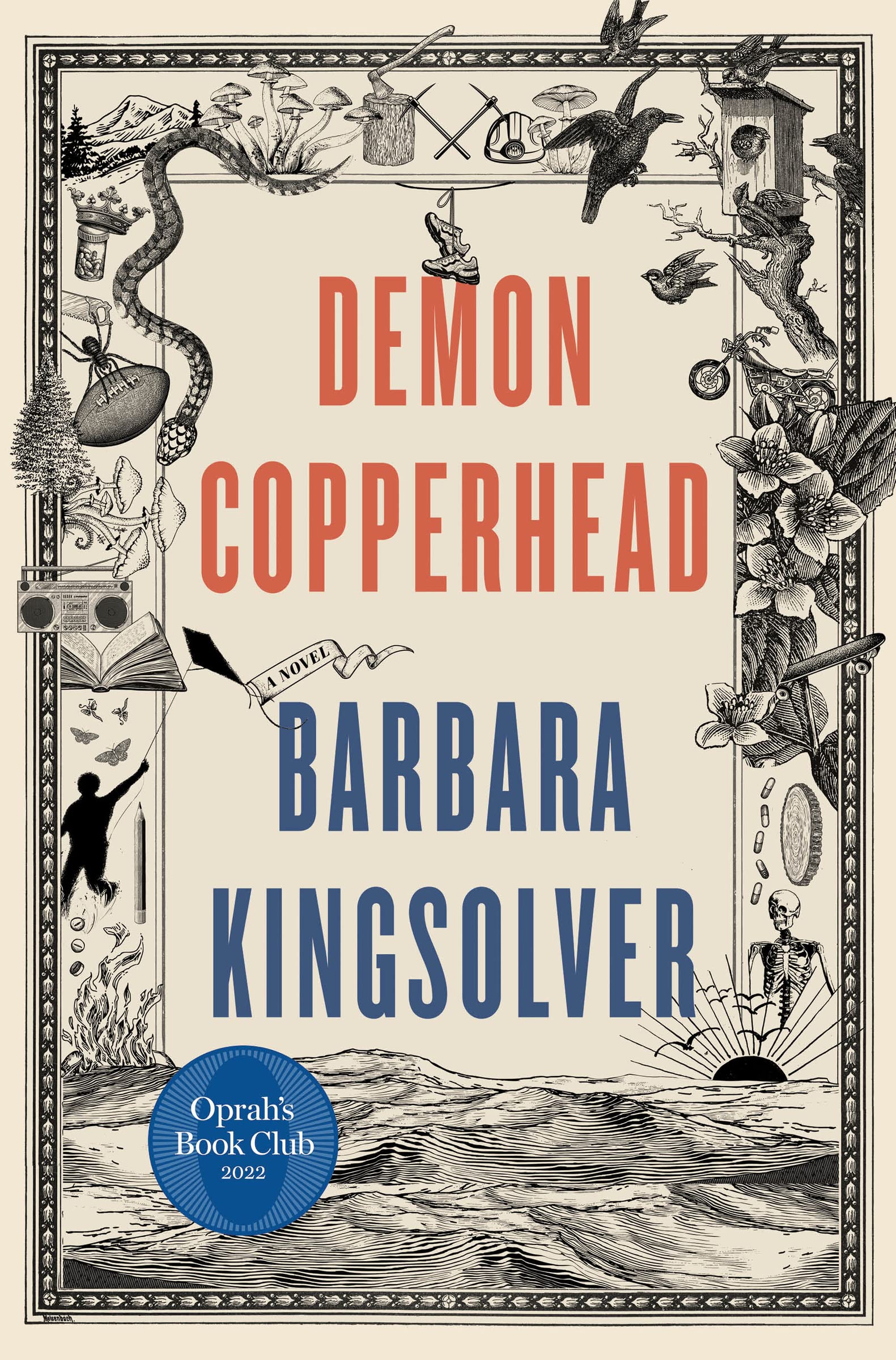 DEMON COPPERHEAD by Barbara Kingsolver
This is on my iPad---it is her modern take on David Copperfield—reviews are good. The opioid crisis plays a large part in this along with Purdue and the Sackler family.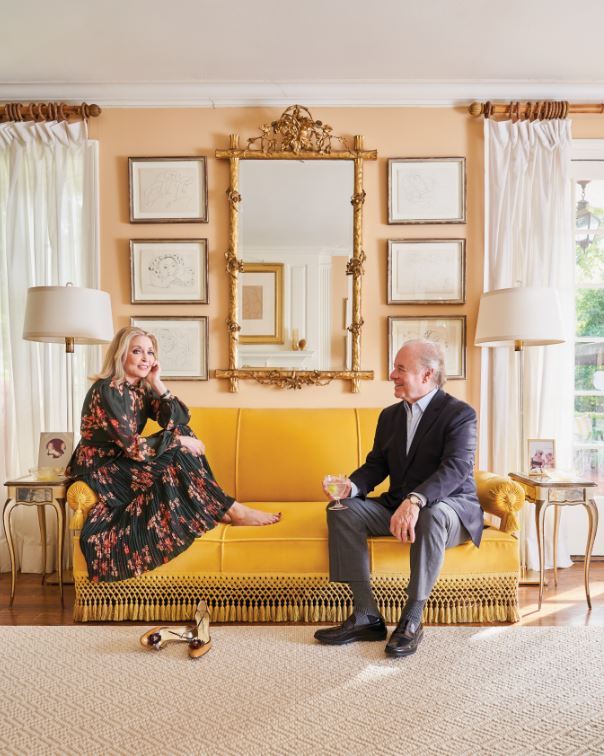 Photo by Stephen Karlisch
Here's to all of you and to a happy, healthy and prosperous 2023,