Sentimental journey
Chartres Street in the French Quarter
NEW ORLEANS---Jim and I have been going to New Orleans since we were in college. Even though it can be touristic, as the French say about anything relating to tourists--a nasty word to many of them---the city we know and love isn't Bourbon Street or any of the usual suspects.
There is probably no place one can visit with better food other than Paris. Good food, wine and cocktails are a way of life for the people who live full time in the city. I must say that I have never met anyone who grew up there that I don't like/love! And, that's a broad but very personal statement---also very genuine.
Let's face it---we go there to eat, drink, stroll and listen to great jazz. In other words, one of the best cities anywhere to be a true flaneur!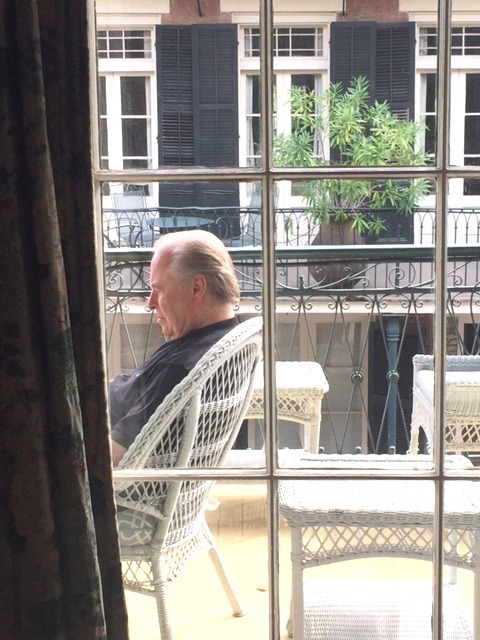 Jim at Soniat House
SONIAT HOUSE---we have been staying at this utterly distinctive place for 30+ years. Rodney and Frances Smith, the owners since the early 1980's, have the most impeccable taste. Each guest room and suite is decorated with lovely antiques and completely unique. The Paul Newman Suite (he stayed there) is like a Parisian attic---very dark, masculine and cozy, while Suite 28 is romantic and light with the most charming veranda where one may take their delicious chicory coffee and homemade biscuits in the mornings and have a cocktail in the evenings. http://www.soniathouse.com/
You must book far in advance unless it is the off season, which would be July and August. I don't suggest going to New Orleans in the summer months unless you love heat and humidity.
Here are our favorites from our trip recently: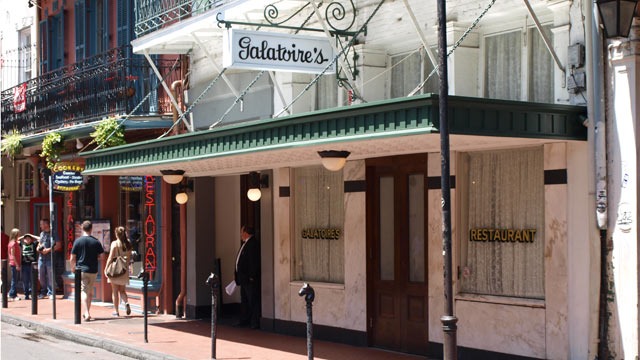 Galatoire's
GALATOIRE'S---it's such fun to go for a long, lazy lunch there--- especially on Sundays. You will see many locals there that day. Galatoire's is famous for not taking reservations so go early and you won't have to stand in line. The upstairs bar can be fun while you're waiting. They have a new addition---don't sit there—sit downstairs in the original restaurant. http://www.galatoires.com/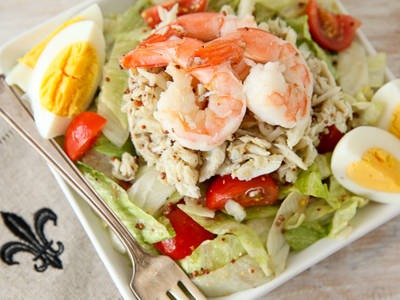 Godchaux Salad
My favorite thing on the menu is the Godchaux Salad---there is no way to describe how good it is---just order it!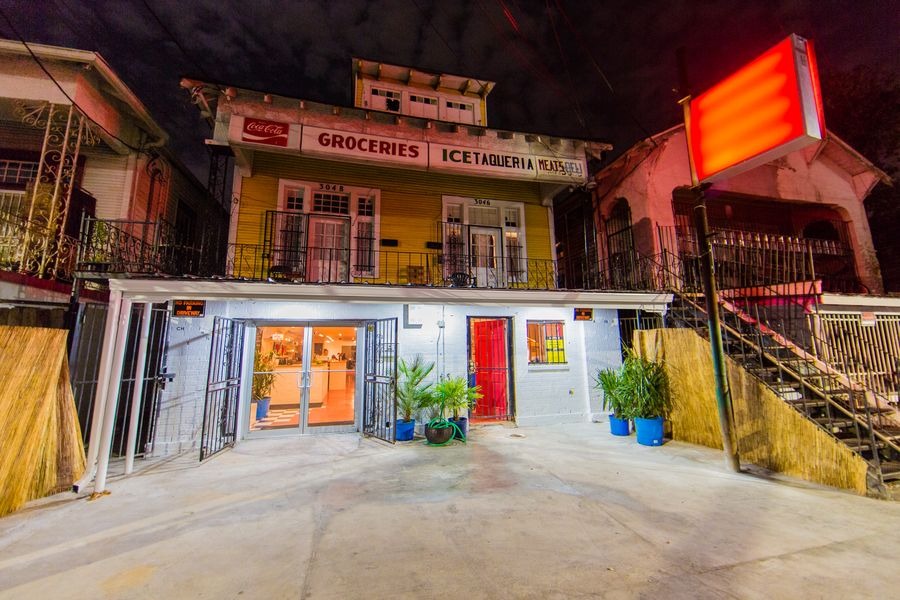 Red's Chinese
RED'S CHINESE—we are always looking for something offbeat and I happened to see a post from JULIA REED, one of the funniest women alive who truly loves food and lives in New Orleans. If you have never read any of her books, you must buy BUT MAMA ALWAYS PUT VODKA IN HER SANGRIA. It is full of good recipes and I was laughing out loud on almost every page. https://www.amazon.com/But-Mama-Always-Vodka-Sangria/dp/1250049032
Julia posted an image on Instagram a day or so before we arrived about RED'S CHINESE. Jim and I love any form of Asian food, so we decided to try it. When we arrived, it looked like a serious dive---and we don't scare easily. Our Uber driver went in to check it out--his idea. He came back and said it smelled like Chinese heaven and we should take the plunge. We were so happy we did! Food was amazing---a fusion of Chinese and Creole. Jim actually said it was his favorite dinner on this trip. In order to go there you cannot be put off by dives---it certainly is one, but lots of locals are there. Be brave---you will be in no danger! https://www.redschinese.com/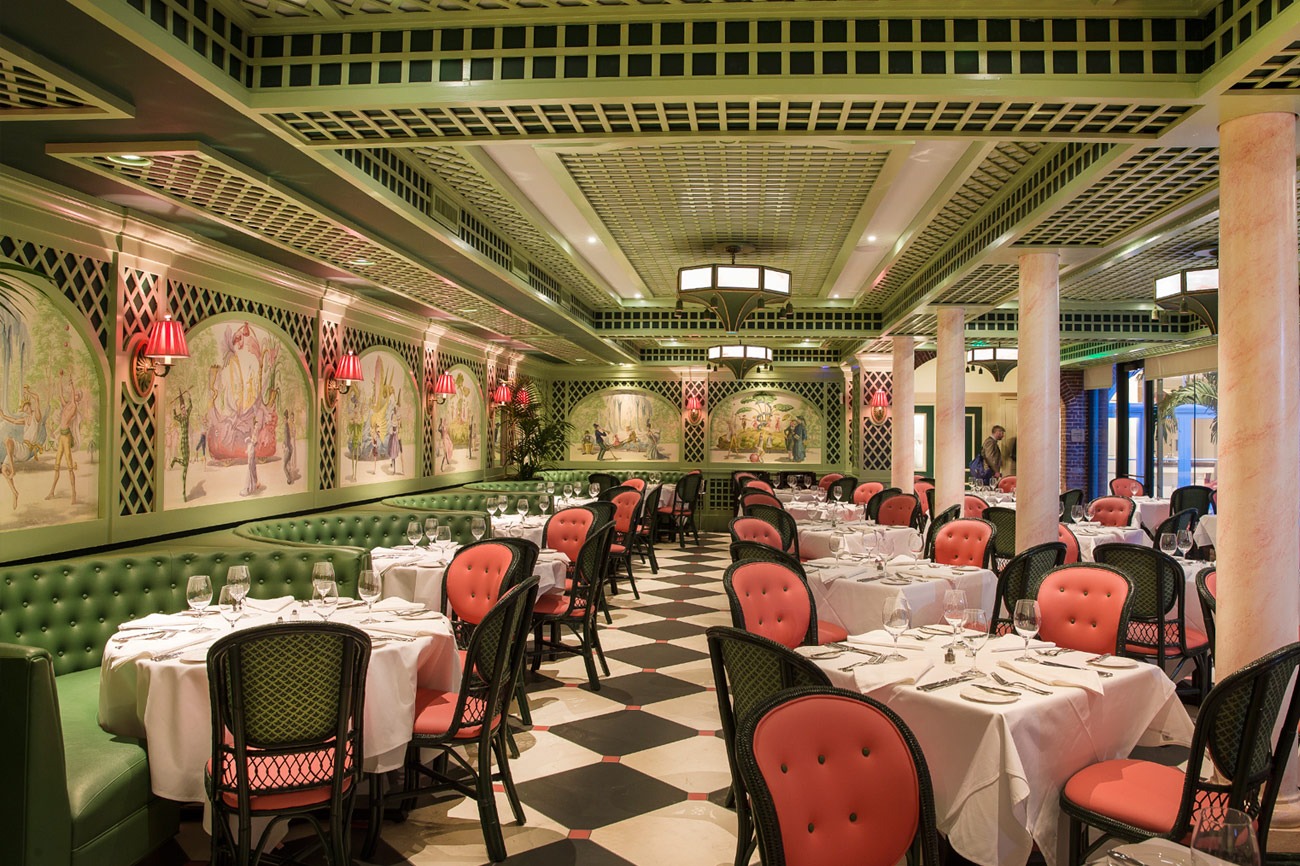 Brennan's
BRENNAN'S---On our very first trip to New Orleans after we were married, Brennan's was THE place to go for brunch. It's right in what I think of as the middle of the Quarter and we always looked forward to dining there on our trips to the city. However, due to internal problems, it lost its lustre and the food wasn't up to par for years. With a complete restoration and a truly good chef in the kitchen, it is now one of the best places in the city to eat. We thought the food was as good, if not better, than it was back in the day.
I recommend trying something creative for an appetizer, but sticking with the classic Eggs Sardou for the main. Of course, Jim would disagree because their turtle soup is singular---he loves it. The Terrace Room downstairs is beautiful and inviting. We had a 2 hour lunch with great service. Of course, that might have been because one of our favorite New Orleans natives and friends, Peggy Sewell, made our reservation and made sure all was perfection. Thank you, Peggy! http://www.brennansneworleans.com/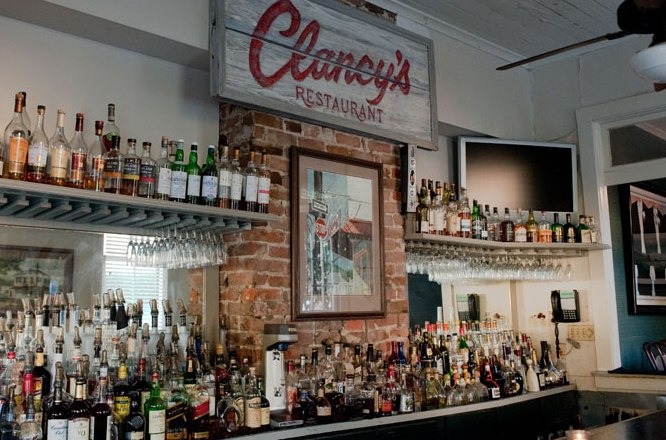 Clancy's
CLANCY'S---Jim and I had lunch here on our last trip---they only serve lunch on Thursday, Friday and Saturday. This time we had to go at night and it was wonderful, but I like lunch here better. It's in a neighborhood and takes a good 20 minutes via cab or Uber from the Quarter. Their menu changes frequently---you should be adventuresome here. It will be worth it. Jim thinks they have one of the best wine lists in town. https://www.clancysneworleans.com/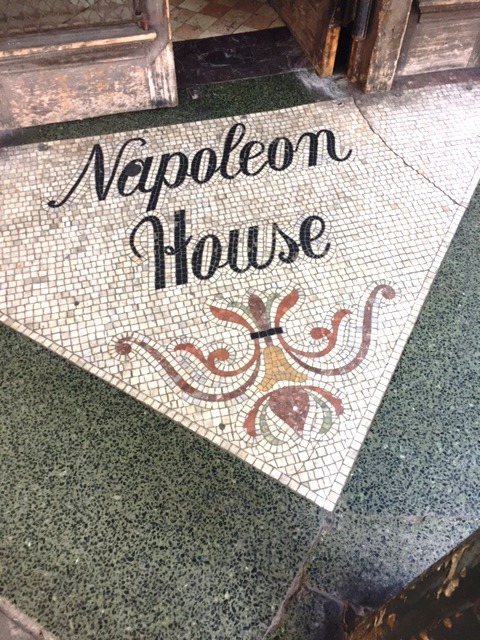 Napoleon House
NAPOLEON HOUSE---I don't like to hang out in bars but this is one I never miss in New Orleans. Our dear friend, Lauren Gurvich King, who was raised here and has the best taste of anyone I know, told us about it many years ago. The bar has been around for over 200 years. It's fun to have a drink and listen to classical music and opera in this setting. Ralph Brennan owns it now and thanks to him, nothing has changed. Read about it http://www.napoleonhouse.com/history/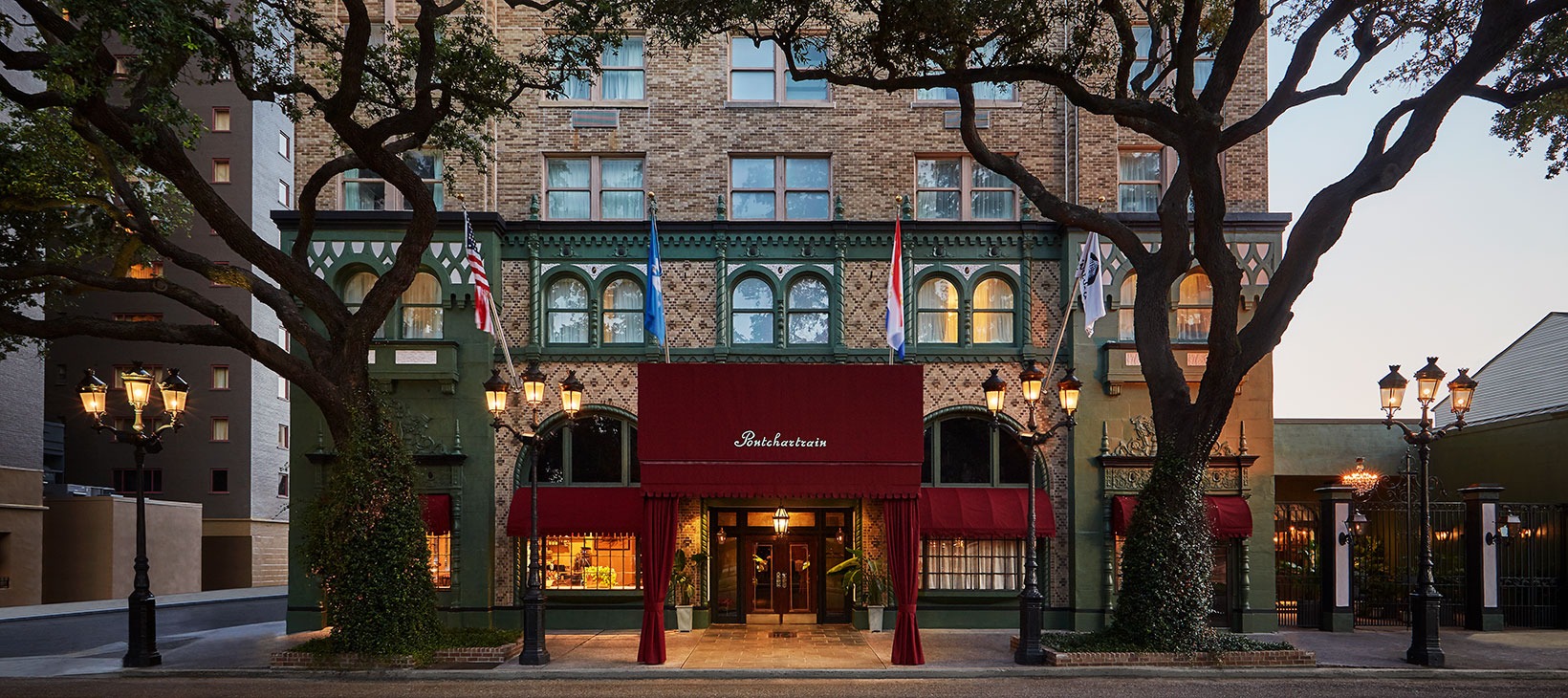 Pontchartrian Hotel
PONTCHARTRAIN HOTEL---Years ago, we never missed dinner here in the Caribbean Room, but in the last couple of decades it had become tired and the food declined in quality. It has been restored to its glory days and is better than ever--- especially the new Hot-Tin Rooftop Bar. I love the murals in the Caribbean Room and they are still there. Locals are returning for special occasions these days. http://thepontchartrainhotel.com/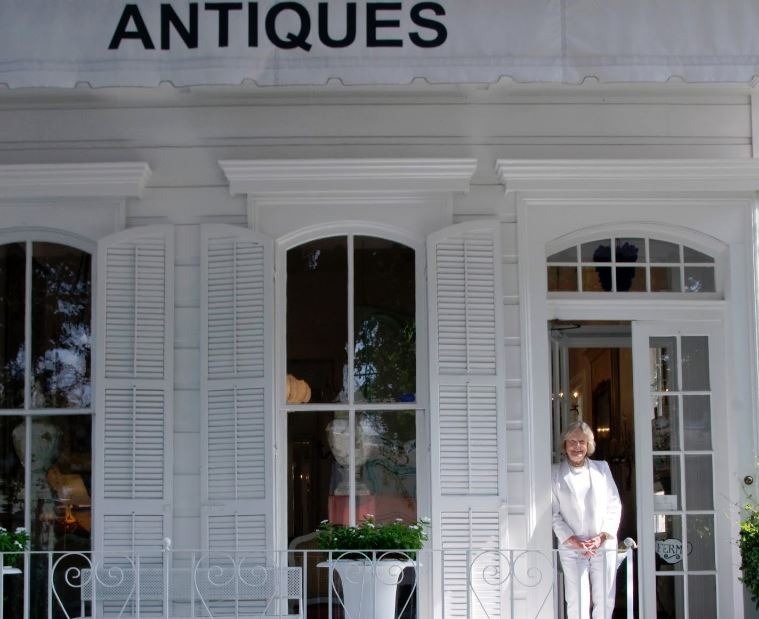 Gerrie Bremermann
MAGAZINE STREET—it's fun to check in with friends who have shops on this famous antiques street. Gerrie Bremermann has the most wonderful shop and she is still a dynamo and an inspiration. Be sure to stop by Shaun Smith and Karla Katz. Just start with Bremermann and walk down to LILETTE for one of the best lunches in town. http://bremermanndesigns.com/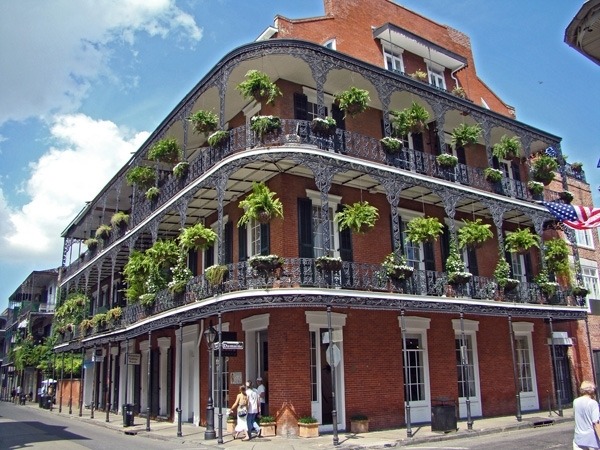 The French Quarter
It's always a sentimental journey for us to come to this extraordinary city---we will have the urge in another couple of years---it takes that long to recover from the over indulgence that is such a part of life here! Who knows---maybe in 6 months---just think, we missed COMMANDER'S PALACE and didn't get to our favorite music venues, which are such a distinctive part of New Orleans.
Laissez les bons temps rouler!