Celebrating 25 Years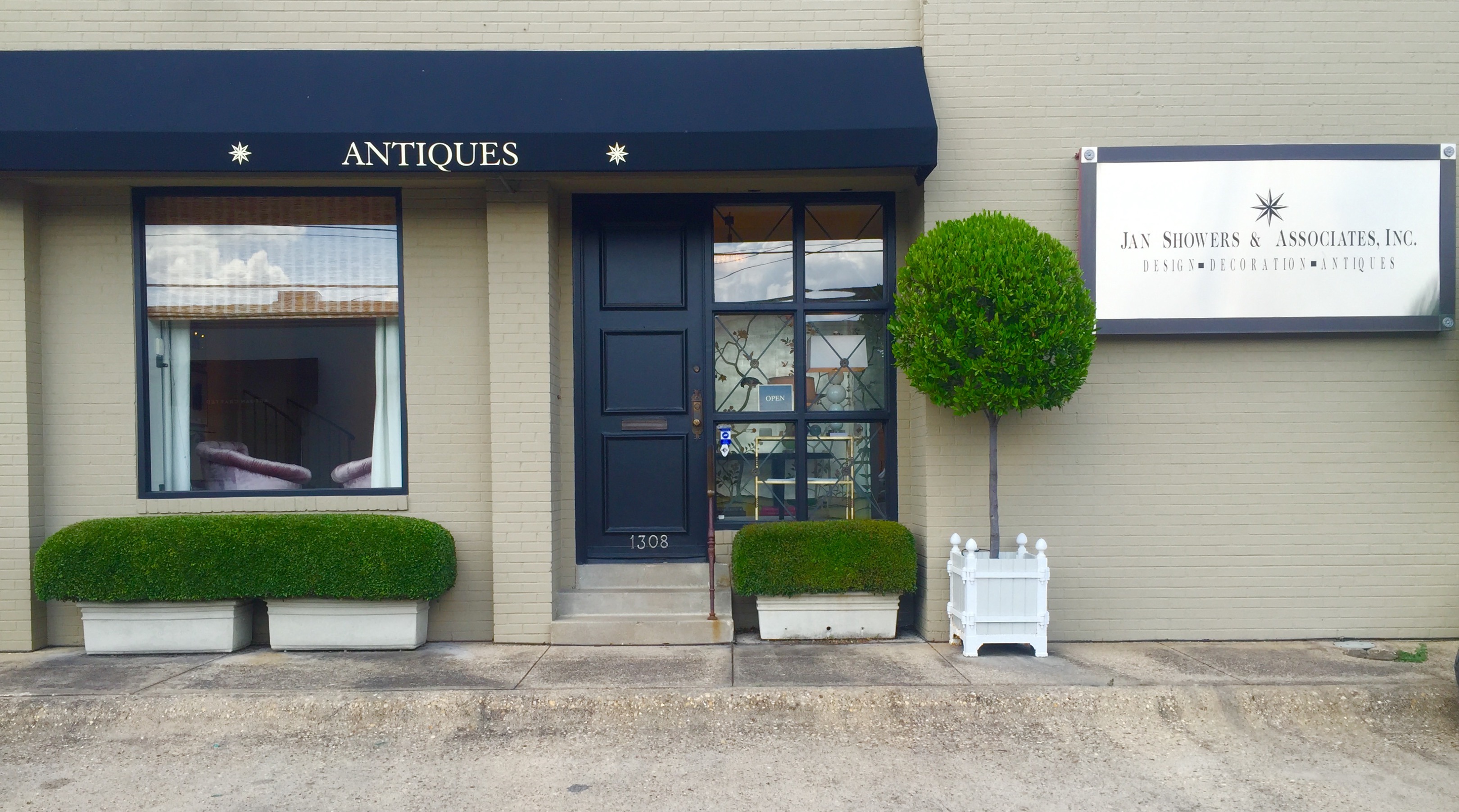 1308 Slocum Street
Twenty five years ago this month, I opened my first (and only) showroom. It became a dream of mine when I developed the concept for a store in Preston Center in the early '90's.
I knew I wanted to be in the Dallas Design District---to me, that simply made sense. The very first place I looked at was the one—1308 Slocum Street--- adding the space next door in 2002, and we've been there ever since.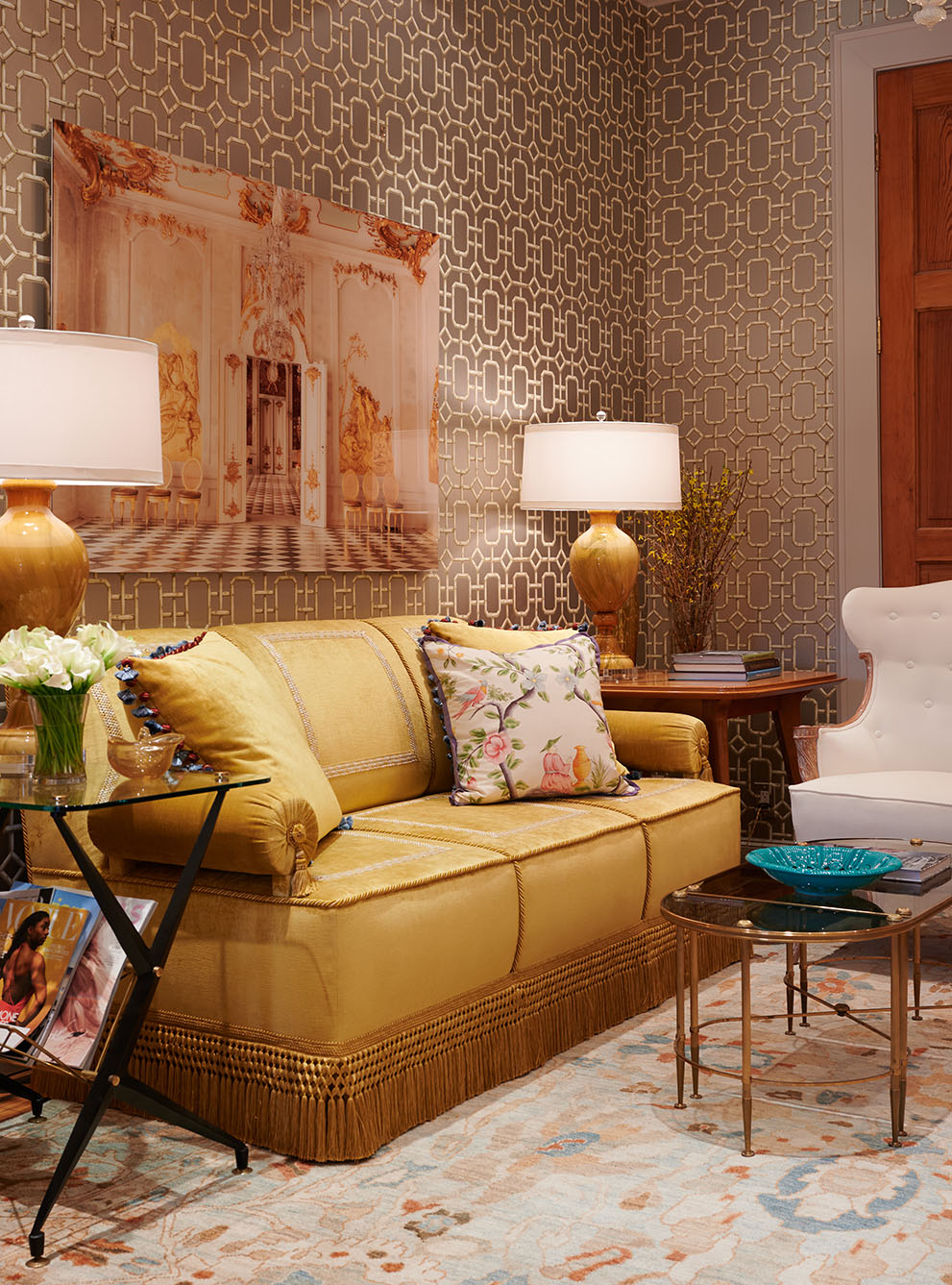 Showroom Vignette
I decided that rather than have it be an antiques shop per se, I wanted it to be set up in rooms so that people could see how we mixed periods, styles, fabrics and accessories. I knew they would love to see something completely different in 1996. As it happened, we had people from New York, Palm Beach, L.A. and many other places buying from us. Chairs were shipped to Australia, coffee tables to London, credenzas to Mexico and many lamps and chandeliers to China.
CHANGES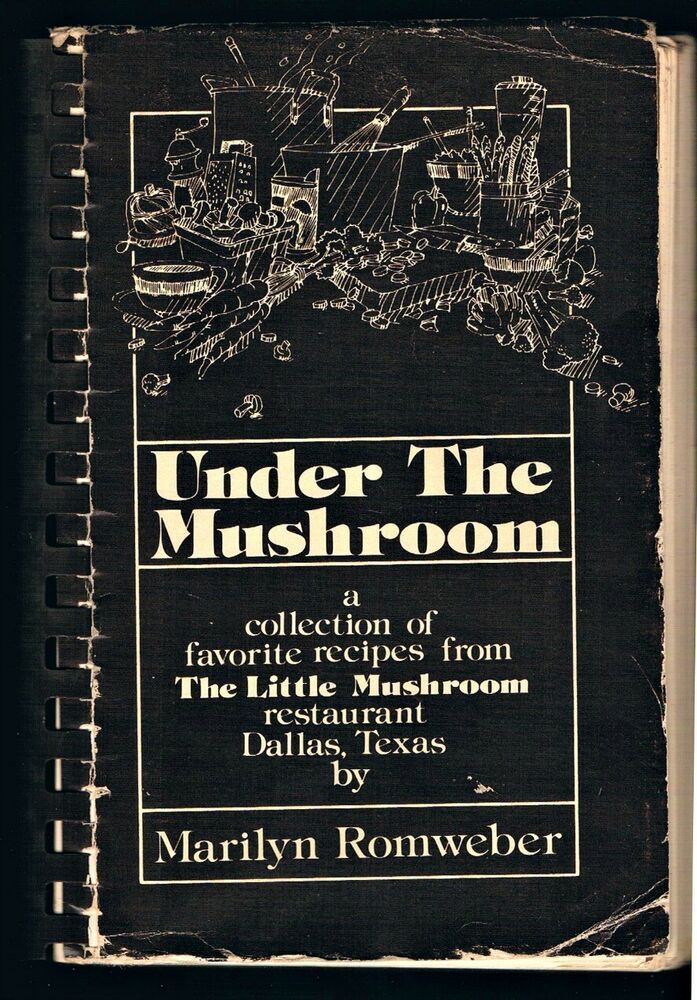 The Dallas Design District was quite different then. It was 1978 when I started my career. For years, the only place to have lunch in the Design District was The Little Mushroom in the original Decorative Center. It was very '50's, could be somewhat tasty but that was it. A few years later another much more upscale place opened in 1444 Oak Lawn.
We spent most of our time in the original Decorative Center. There were antique shops all over town---Henderson, Fairmount, Slocum and a few on Oak Lawn.
PARIS SHOPPING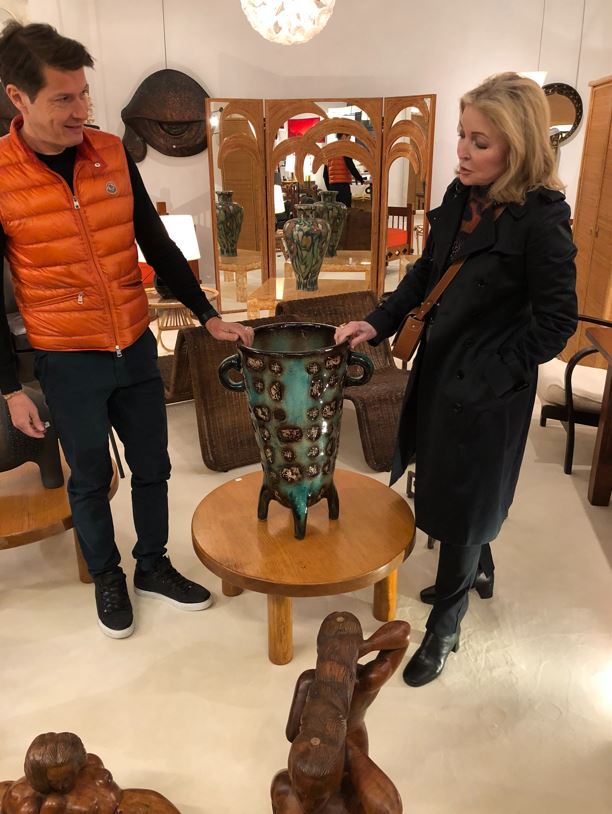 Working with a dealer in Paris
My first trip to Paris to buy for the showroom was in October 1996 about a month after we opened the showroom. I had been purchasing antiques in Dallas, Paris, New York, L.A., New Orleans for clients---it was a dream of mine to have my own place that would have antiques for sale to designers and my clients, primarily shopping in Paris. I was very fortunate---I had a good friend in Paris who connected me with a well-informed guide who took us all over Paris. I loved the Carre on the Left Bank and, of course, the Marché de Puces---it was the Mother Lode at that time. The amount of Jacques Adnet, André Arbus, Jean Michel Frank and so many other great designers of furniture were everywhere. There were tons of Americans in Paris buying. This all changed when the Euro was valued at more than the dollar. That never changed what I was doing---I simply kept going and always found wonderful antiques and vintage.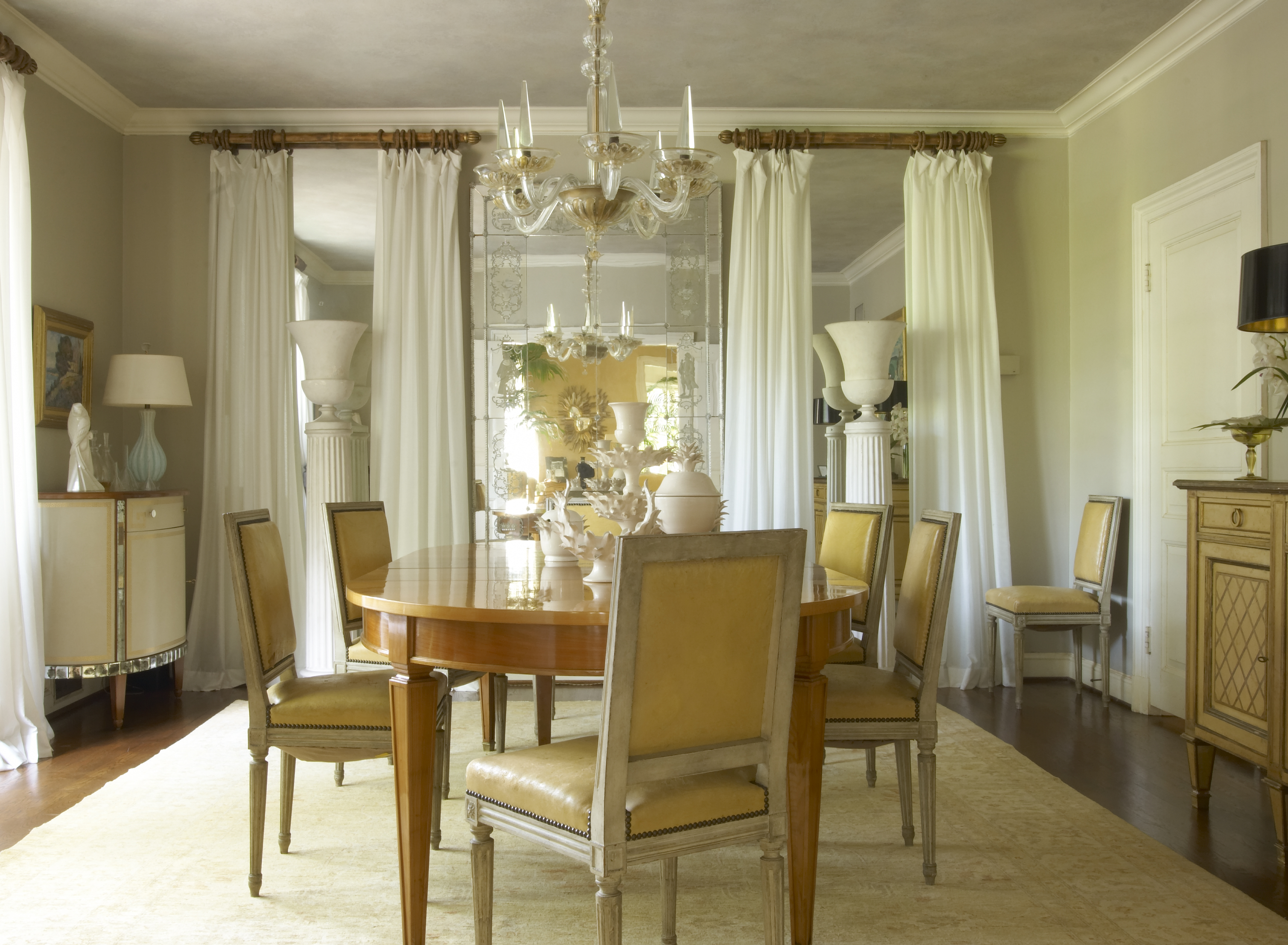 Dining room done in all French forties
I was immediately taken with the period from the late forties in France---I could see how beautifully it would mix with 18th c. Louis XVI and Directoire as well as Regency pieces. The woods were glorious---I saw French Cherry for the first time (completely different than American Cherry), wonderful sycamore pieces—all were derivatives taken from 18th c. pieces but produced with lighter woods and substantially larger, which works so well with the way we live today.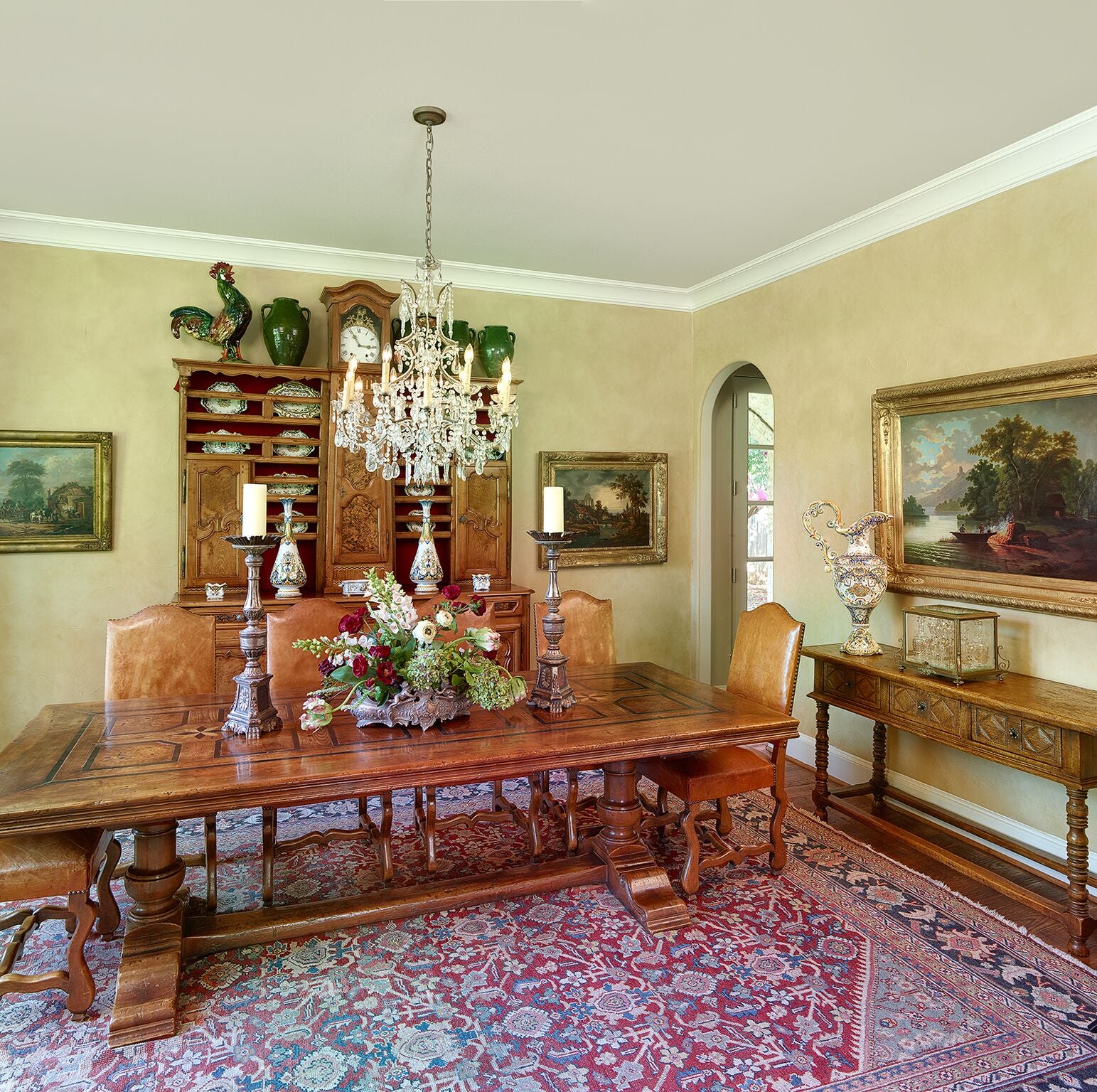 Country French furniture
At that time, Country French was terribly popular in Dallas as were other English pieces--- all dark wood. For this reason, I was afraid to buy the entire shipment of forties pieces, so I bought about half that fit the oldy moldy look, and the other half, what I was really attracted to. To my surprise, when the shipment came in, the forties pieces flew out the door within a couple of weeks and I booked our next flight to Paris…our showroom became popular almost overnight because it was unusual and certainly had a point of view.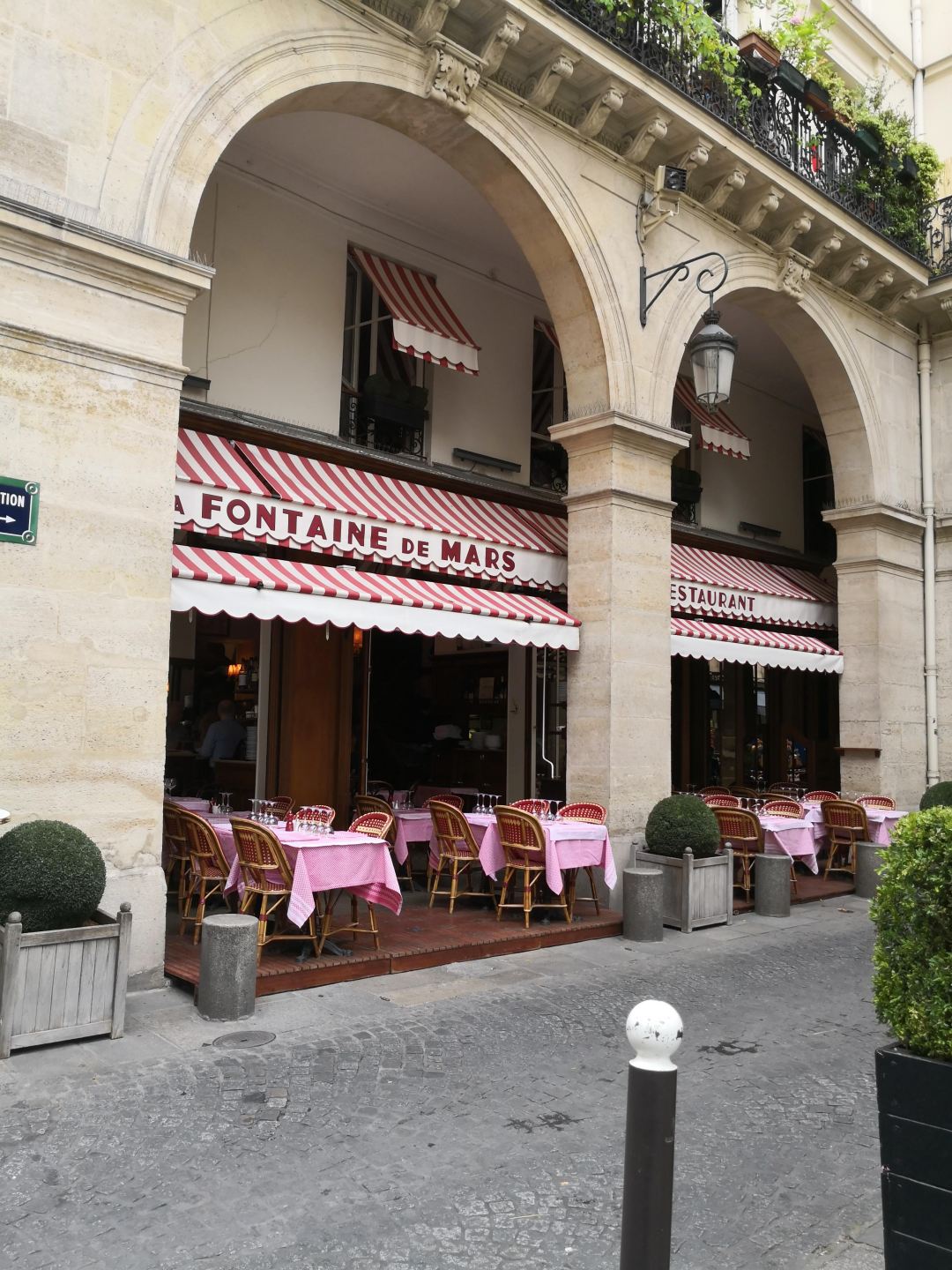 La Fontaine de Mars
Jim and I love Paris---we have shared so many wonderful times there. We particularly like to take long walks and, of course--- the restaurants there. Our favorites are more casual now than they were in the beginning. We love a late lunch at Le Coq Rico up on Montmartre---best chicken anywhere other than The Kronenhalle in Zurich. La Fontaine de Mars near the Eiffel Tower is one of our favorite brasseries and dine there more than once on each trip. We love Vietnamese food---we go to Kim Anh, Paloma Picasso's favorite and to Ravi on the Left Bank for Indian Food. Jim has to have his Choucroute Speciale at Brasserie Lipp on Sundays. La Stressa is fun and lively with delicious Italian.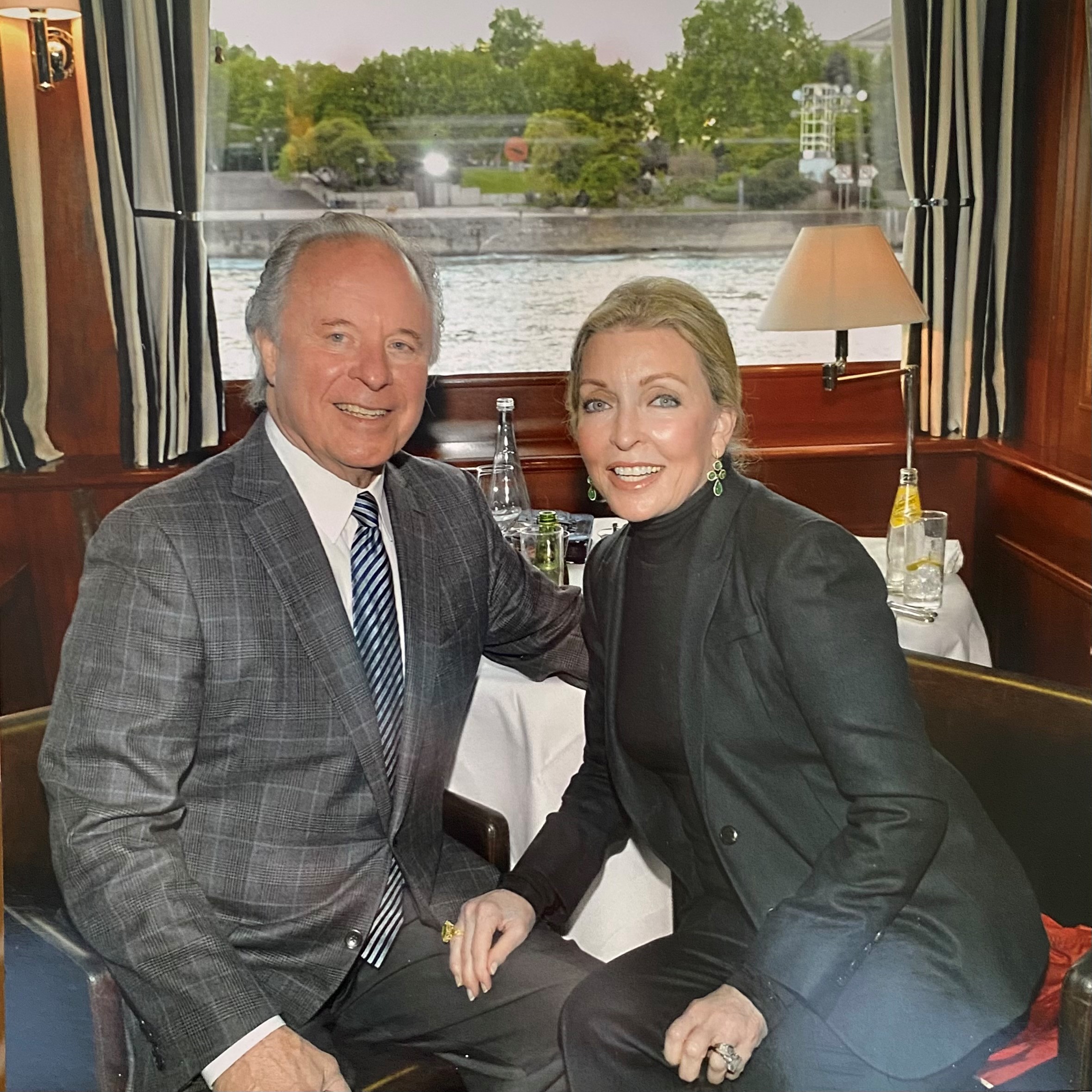 Yachts de Paris
If you are in Paris and have time, please take a cruise around the Seine on Yachts de Paris. You can have dinner---it is pleasant and helps you understand Paris. The spring/summer is the best time when it doesn't get dark until quite late.
NEW SHIPMENT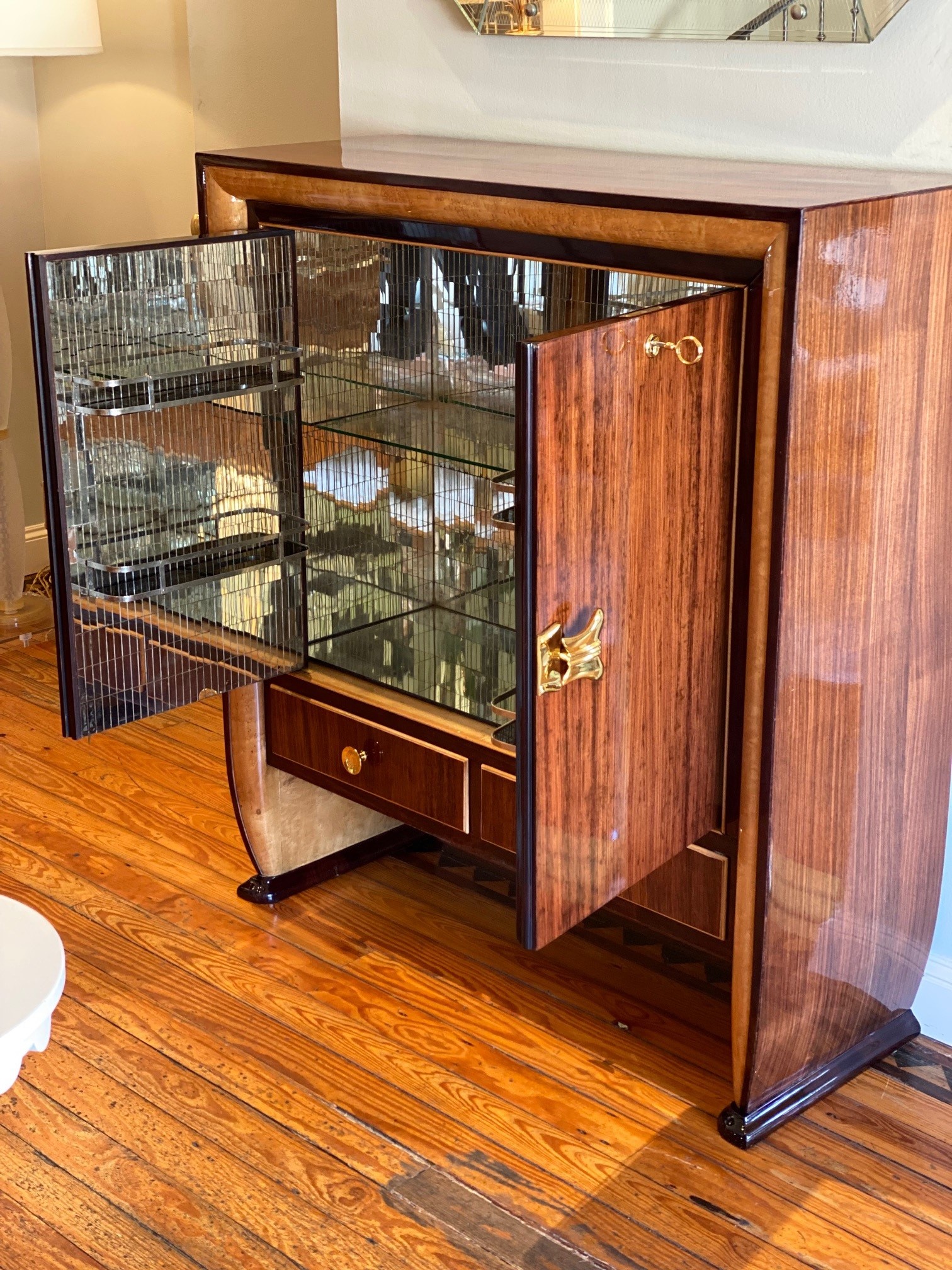 Osvaldo Barsini
We just received the second shipment that as purchased virtually from Europe this year---many things are getting restored but should be in the showroom throughout September. We also have an amazing new etagere that will be displaying our vintage ceramics and this stunning Italian bar designed by Osvaldo Barsini. Shop the new shipment.
JAN SHOWERS COLLECTION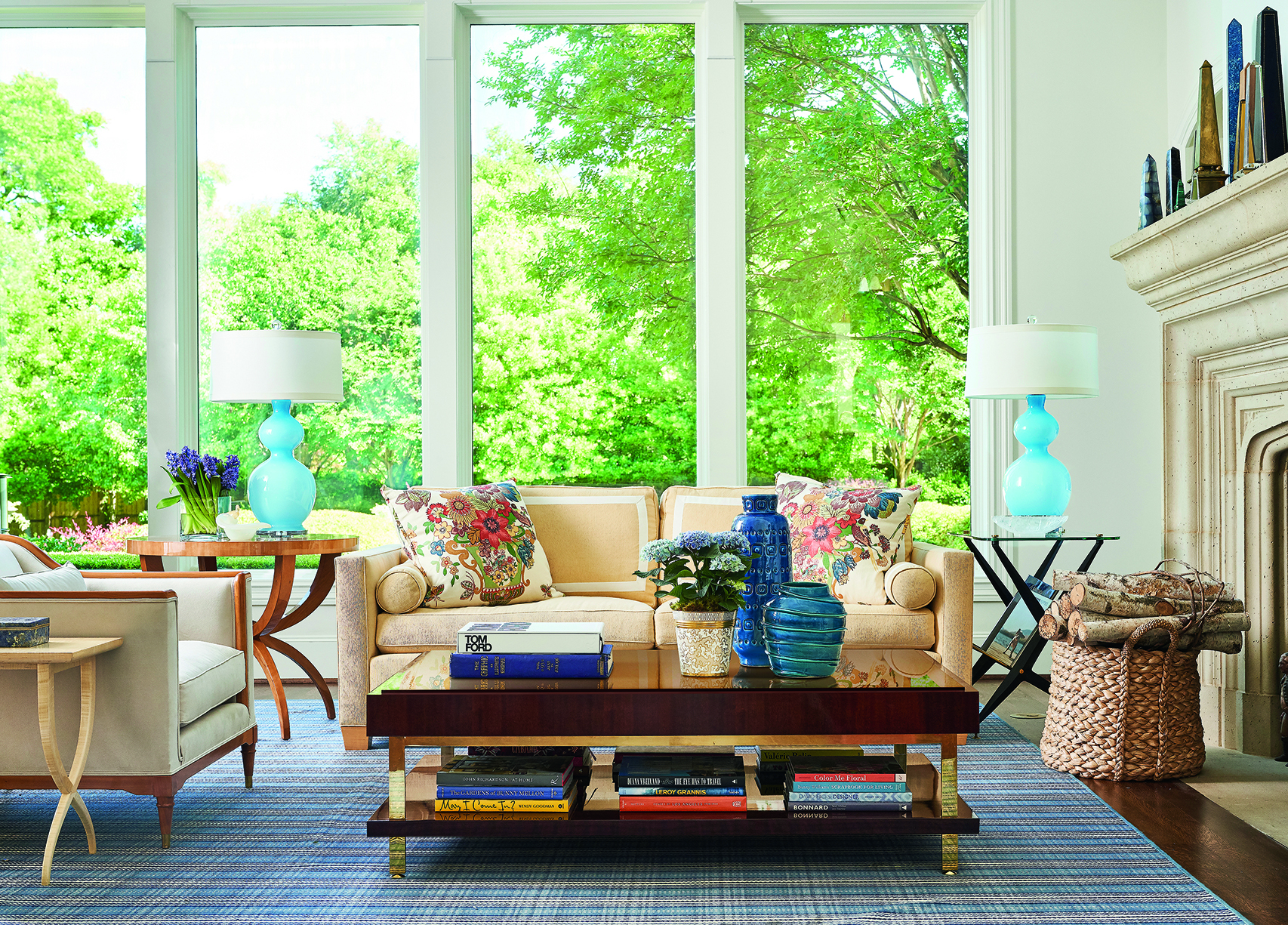 Family room done in Jan Showers Collection
Our to-the-trade furniture collection is now under one roof---please come by and see it or look on our website. After over 20 years of being in 8 wonderful showrooms across the country, we decided to go direct to our many customers. You can create a profile online to receive trade pricing for all our products including the Jan Showers Collection. Our website is transactional now for antiques and vintage and will be soon for the furniture collection. Of course, you can call at any time for further information or to place an order at 214-747-5252 or info@janshowers.com
KIPS BAY SHOW HOUSE DALLAS AND TEXAS DESIGN WEEK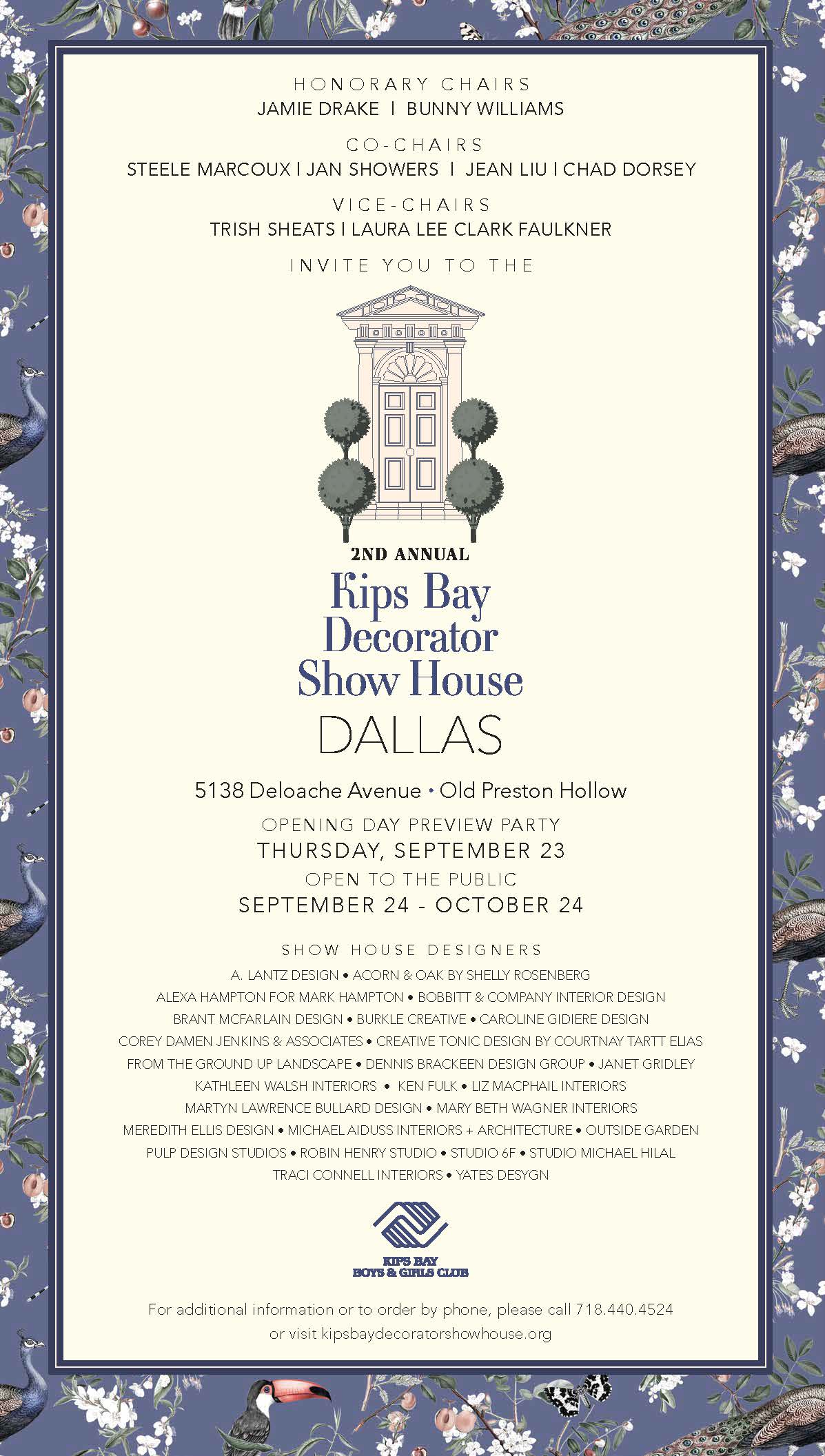 Don't forget to get your tickets for the Kips Bay Show House! The house has many talented designers --- I can't wait to see what they create. Purchase tickets and see the full lineup here.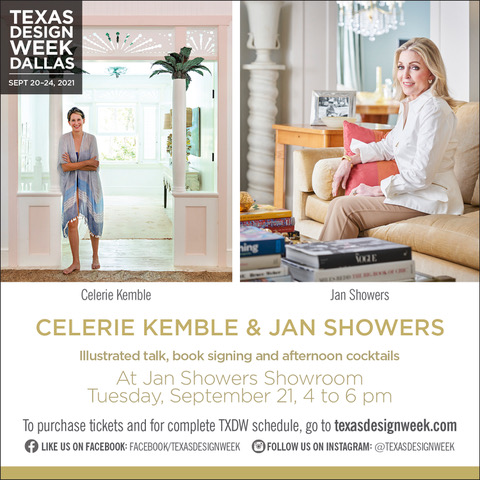 Please purchase tickets to come by our showroom on September 21 from 4 to 6 to hear Celerie Kemble and me discuss interior design----trends, current state of building and remodeling and other topics. Purchase tickets for all Texas Design Week events here.
See you soon!