Kimberly Schlegel Whitman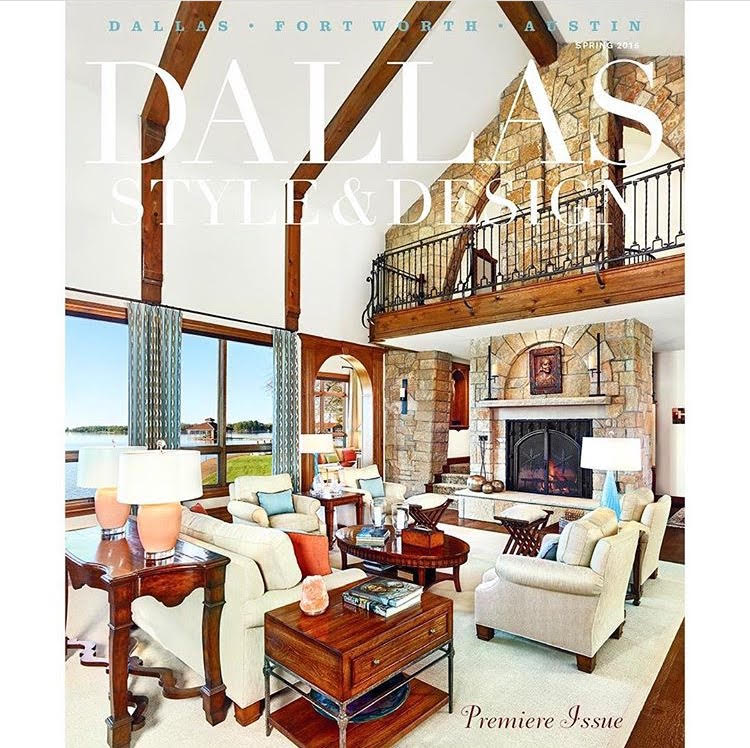 My friend Kimberly Schlegel Whitman has accomplished much more than most people do in a lifetime and is still in her 30's---she has written 7 stunning books, created and run several businesses and makes regular appearances on television including The Today Show. She is a lifestyle and entertaining expert.
However, the thing that impresses me most about Kim is that she is genuine, warm, inclusive and has an amazing spirit. With her new book just released, along with a line of monogrammed linens, I thought it would be fun to sit down with her and find out how she does it all.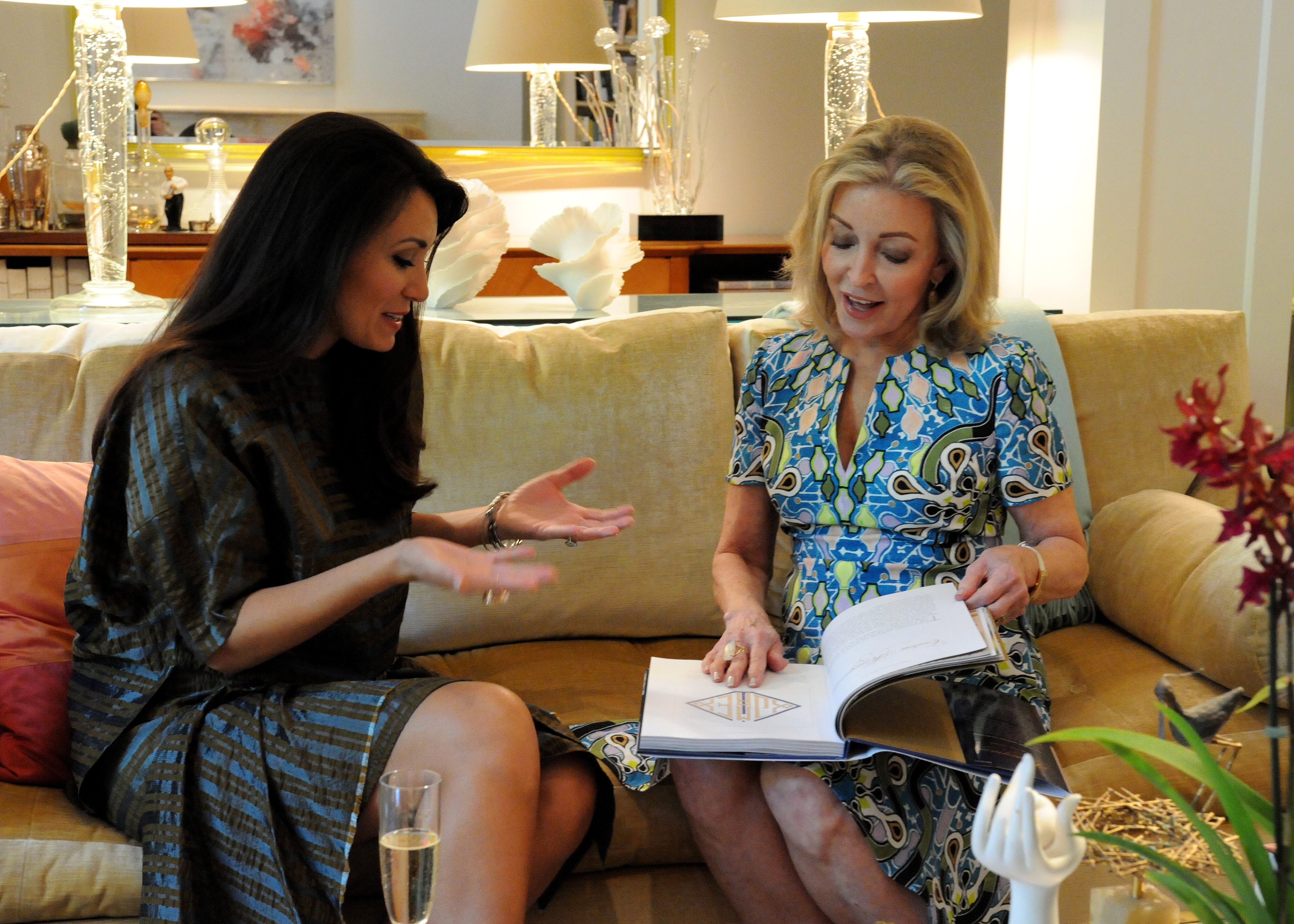 Kim and I looking at her newest book
JS- I have known you since you were in your first bachelorette apartment that we did ---since then, there have been at least 5 other projects we have worked on together. You've always been so involved and had such wonderful ideas. And, you are creative and energetic! Tell me what inspires you.
KSW- That means a lot to me coming from you Jan! Thank you. I just get a lot of joy out of it. I love working with you (obviously-- I'm such a repeat offender!) and I'm so inspired by the way you are able to edit and really understand what works. I tend to love everything and want it all and you have really taught me to be more discerning and careful about how things work together in a space. So, basically, I'm very inspired by you but I'm also grateful that it is easy for me to find inspiration everyday in everything around me. I love films (old and new) and books and magazines and social media and fashion and people…. I could go on and on. I often see a little thing and it will spark an idea. For example, I was walking my daughter in her stroller the other day and we went by a house with the prettiest fretwork on the terrace. I took a photo and sent it to Jen O'Neal, my partner in our new linen business, and we started drawing a new stitch for the linens based on the fretwork. The point is that the cliché is true – there is inspiration all around us if we just keep our eyes open.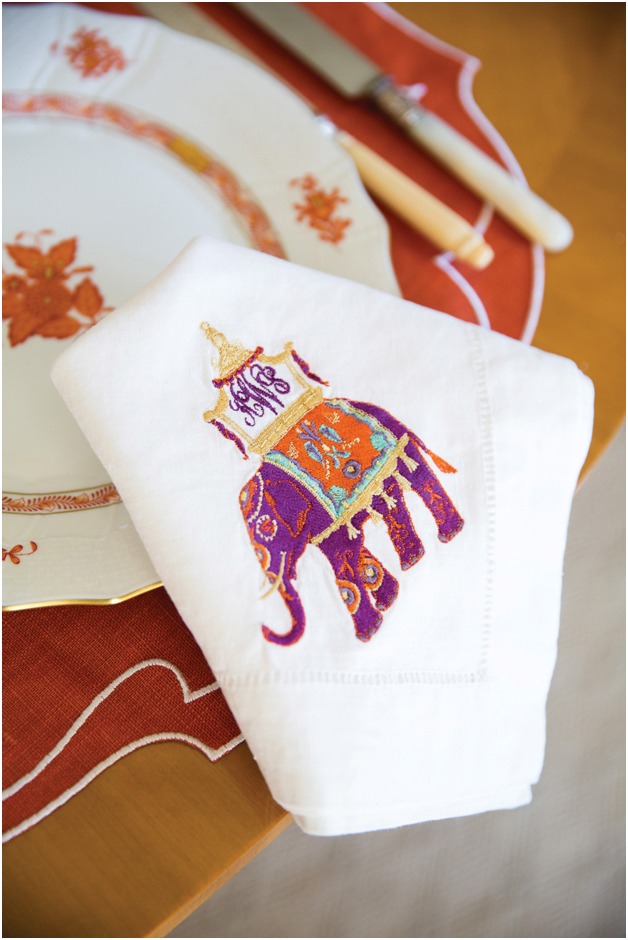 From Kim's new book
JS- Any special secrets about your energy level?
KSW- OH my….I don't know that I have that much energy! Justin and I go to bed early and rise early and just go-go-go in between. I guess the secret is that I really love what I do so I want to keep doing it.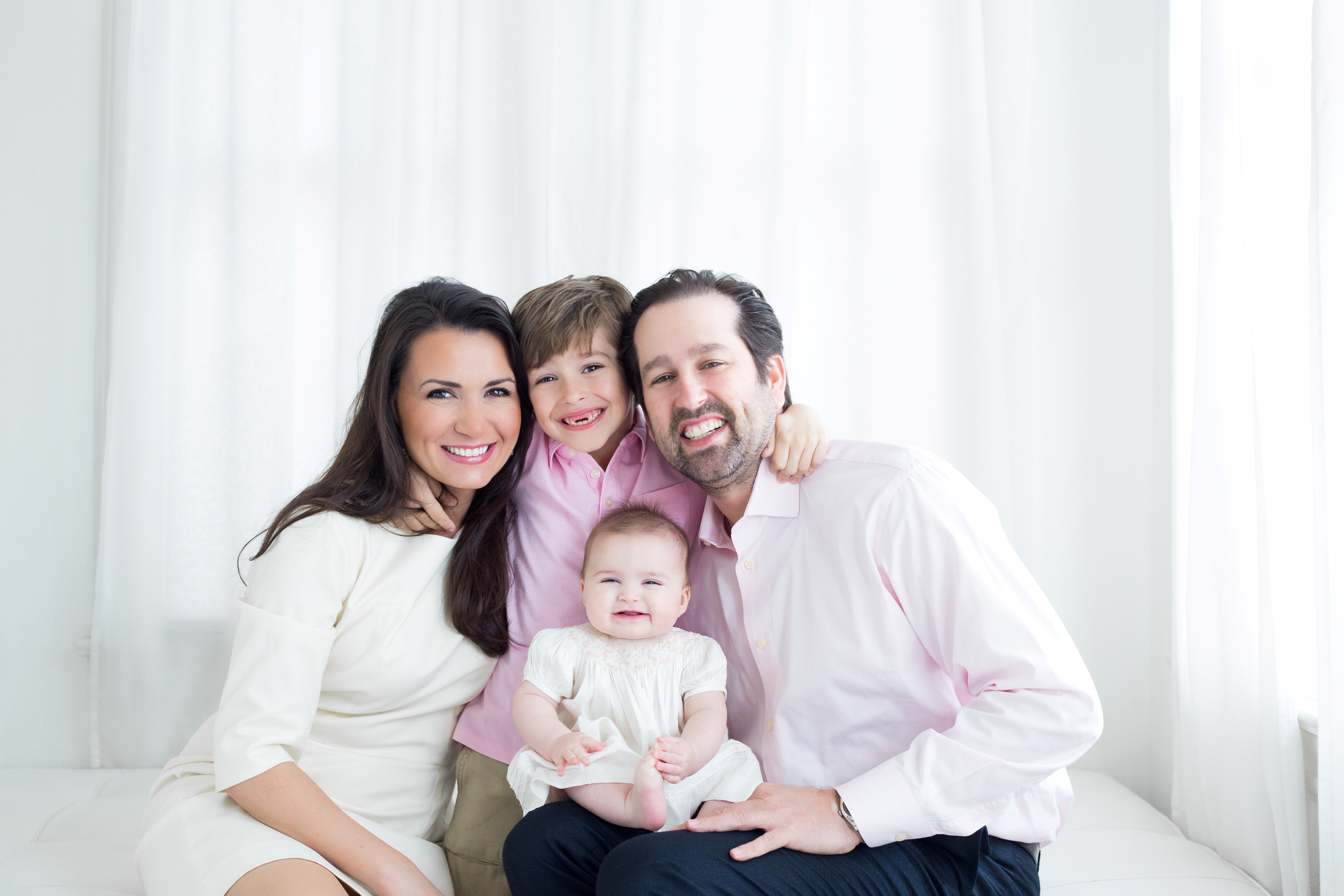 Kim, J.R., Justin and Millie
JS- With such a precious and wonderful family, how do you make time for all you do? The Today Show means travel to New York, writing your books---I know how time consuming that is, particularly the photography and designing linens, along with so many other creative projects. Is it difficult to find a balance?
KSW- It is all a big juggle but we just do it. I'm so blessed to have a husband who doesn't mind when I take off for work out of town. I actually think he secretly likes having time with the children without me around! I make the children a priority and try my best to pick them up from school everyday. As working mothers, we have to make a lot of sacrifices and I've chosen to make mine on the career side instead of my family life. I always remember what our friend, Elaine Agather, said "Some days I have been a great mom, and some days I was a fabulous banker. It's rare that you do it all on the same day."
JS- How do you typically start your day and how do you end your day?
KSW- I always start with a steaming cup of black coffee. Always! My children are big fans of sleep so we have to wake them up. Justin drives JR to school so I can stay in my robe in the mornings while I prepare breakfast. Then I wake up Mills and get her off to school three days a week. The other two days I take her for music class (which she loves) or ballet (which she isn't quite sure about yet).
Then I get to work. I love that my job requires something different of me every single day. Some mornings are spent at my computer, others are spent pulling props for a TV segment or photo shoot. We try to have as many family dinners as we can during the week. The children go to bed early so sometimes Justin and I sneak out for an evening after they have gone to bed but, ideally, we crawl in bed and turn on Jimmy Kimmel-- recorded from the night before because we can't stay up late enough to watch the live show!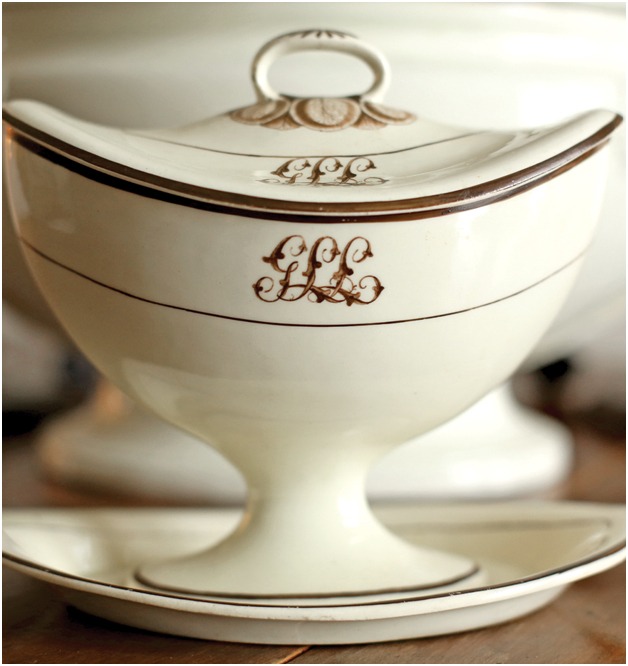 Old Paris monogrammed china
JS- What inspired you to write a book about monograms?
KSW- I wanted to do this book for a few years before it came to fruition. I remember the conversation with my editor after a previous project when we were brainstorming about the next idea and she said "get more specific". That is when it hit me that monograms are an element of entertaining that I adore and would love to share more about. I also know that I'm not alone in my passion for them.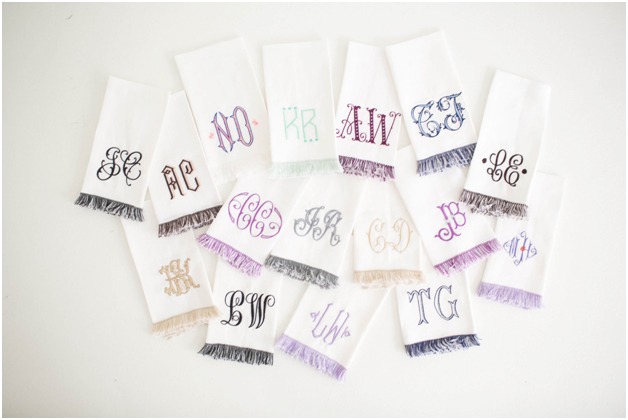 Halo Home monogrammed linens
JS- I know you have a new line of table linens and cocktail napkins---do you plan to extend that into bed linens? I know you have always loved beautiful linens.
KSW- I do love linens! I always have. I'm so excited about Halo Home and the response has been so wonderful. I wanted to create something elegant yet festive and I didn't want it to be at a price point that made it feel too precious to use. I'm so excited about what we have designed, and what we have planned for the future. My partner, Jen, and I have so many ideas for table linens, cocktail napkins and guest towels that we haven't made any plans for bed linens but I would certainly love to do that when the time is right.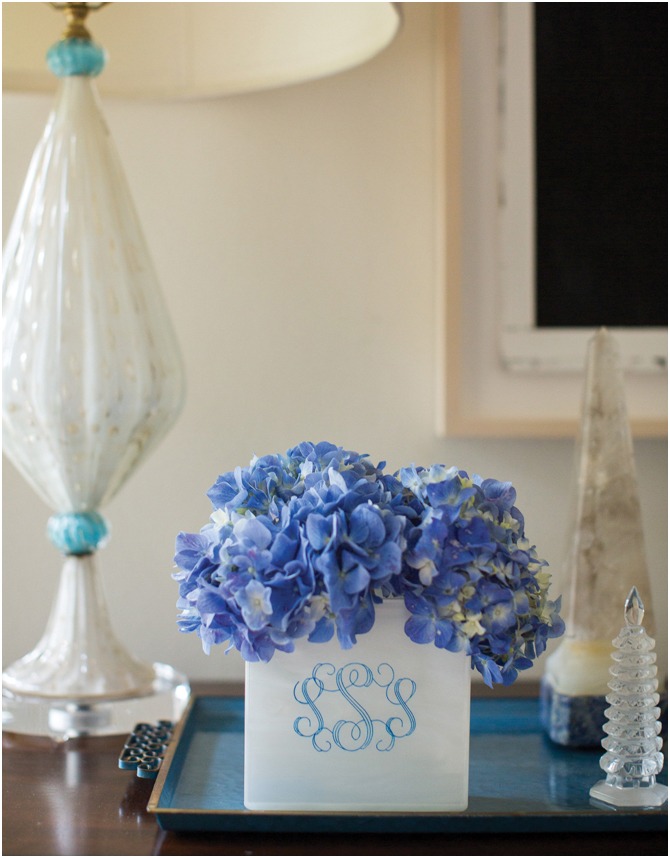 Monogrammed ceramic vase
JS- What do you find to be the most difficult aspect of writing a book?
KSW- Easy – stopping! I could have gone on and on and on about monograms. I had more ideas and items and homes that I wanted to photograph and more people that I wanted to get advice from but at some point you just have to tell yourself that what you have is enough. Enough!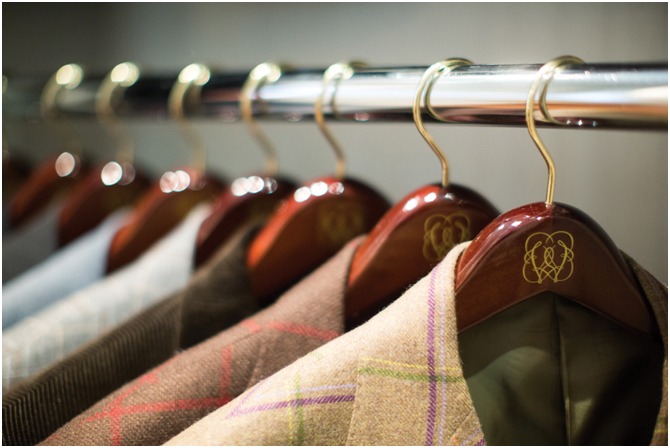 Justin's monogrammed hangers
JS- Favorite books and movies?
KSW- Book - Anything by Alexandra Wentworth. I laugh out loud. I LOVE her!
Movies – I love movies but we don't take the time to go out to them anymore. I love old Hollywood classics like Roman Holiday or High Society but lately I've been watching a lot of Sound of Music and Annie with the children! My son watches Those Magnificent Men and Their Flying Machines (which stars his grandfather) over and over and over again!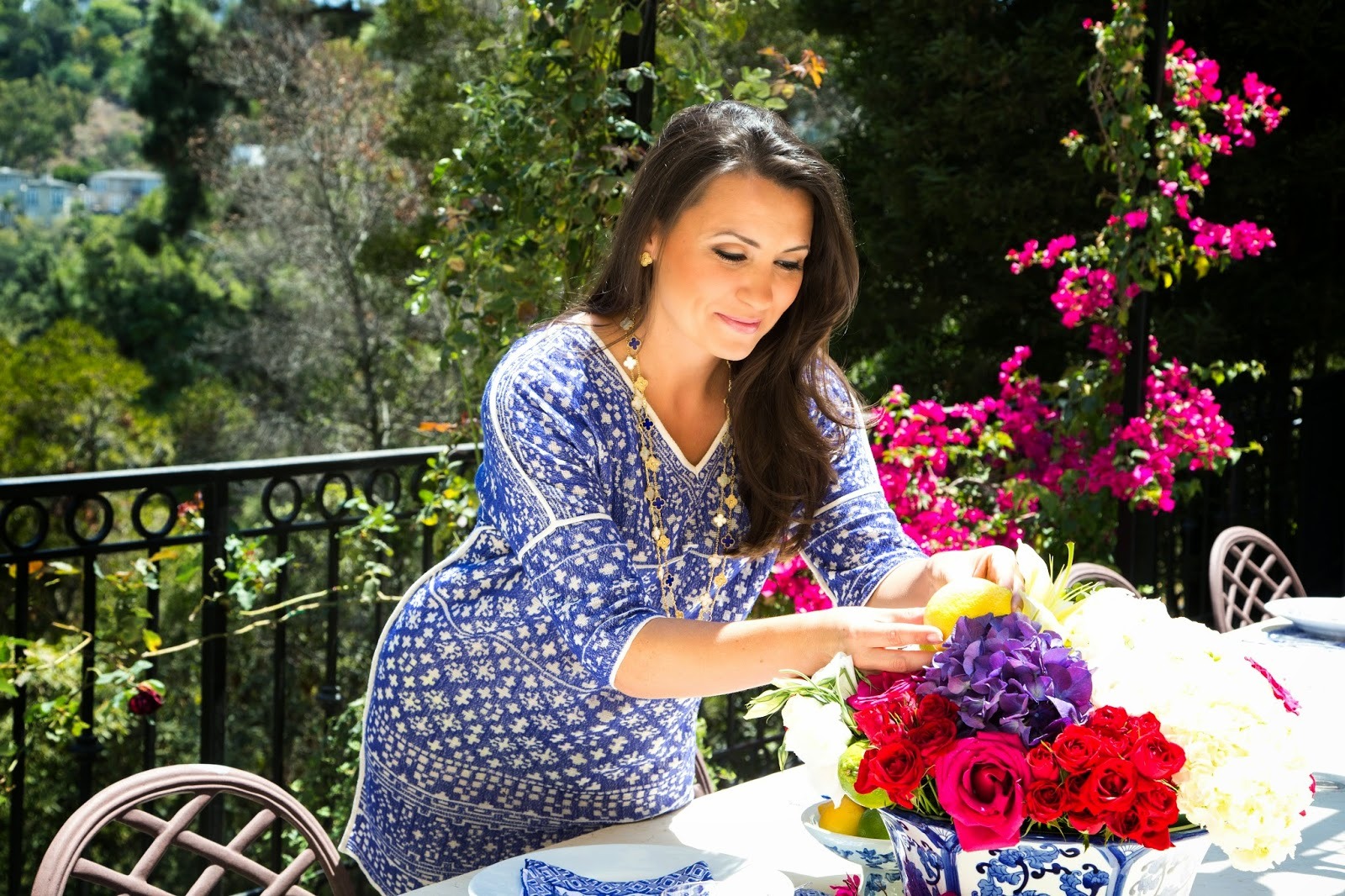 Kim preparing for a luncheon al fresco
JS- You are so talented at putting together wonderful table settings for dinner parties---can you share a couple of tips for giving a great one?
KSW- Thank you! I just try to have fun with it. I think that it is nice to follow most of the rules and then do something a little bit unexpected or irreverent to spice things up a bit and put your guests at ease. My father always had a question prepared before dinner that he would ask everyone to go around the table and answer. It is a great ice-breaker at a dinner party where people might be meeting for the first time and a great bonding experience for those who know each other well. Justin and I have carried on with that tradition. We always have something prepared to pass around the table. Sometimes it is serious. Sometimes it is silly. It always creates memories though! I remember one dinner where my father asked everyone to share if they had ever been arrested and why. Let's just say that the answers would have shocked anyone!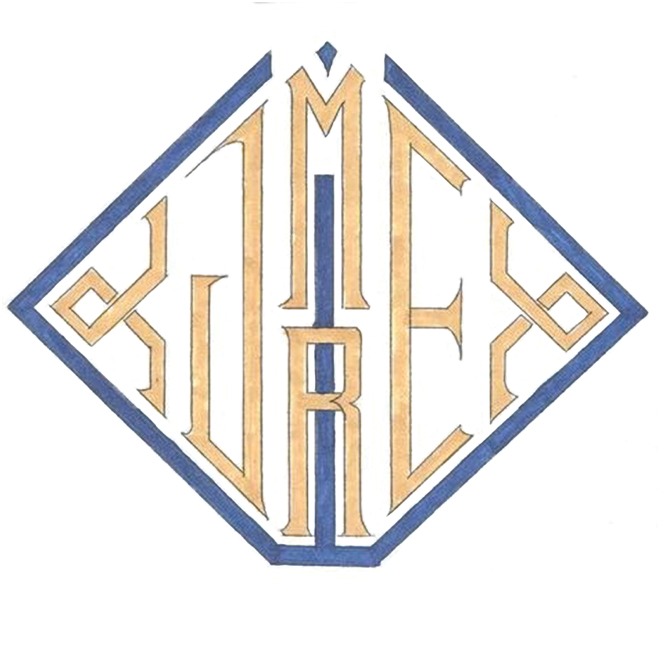 J.R.'s custom designed monogram
JS- If you lived anywhere else besides Dallas, where would that be?
KSW- This is exactly the kind of question that we would pass around the table at a dinner party to break the ice! I love to travel and I love my regular visits to New York and Los Angeles but I wouldn't want to live anywhere but here. I love Dallas! I love my friends and family here and I am amazed by everything our city has to offer. I wouldn't mind importing California's weather but otherwise I think Dallas is perfect.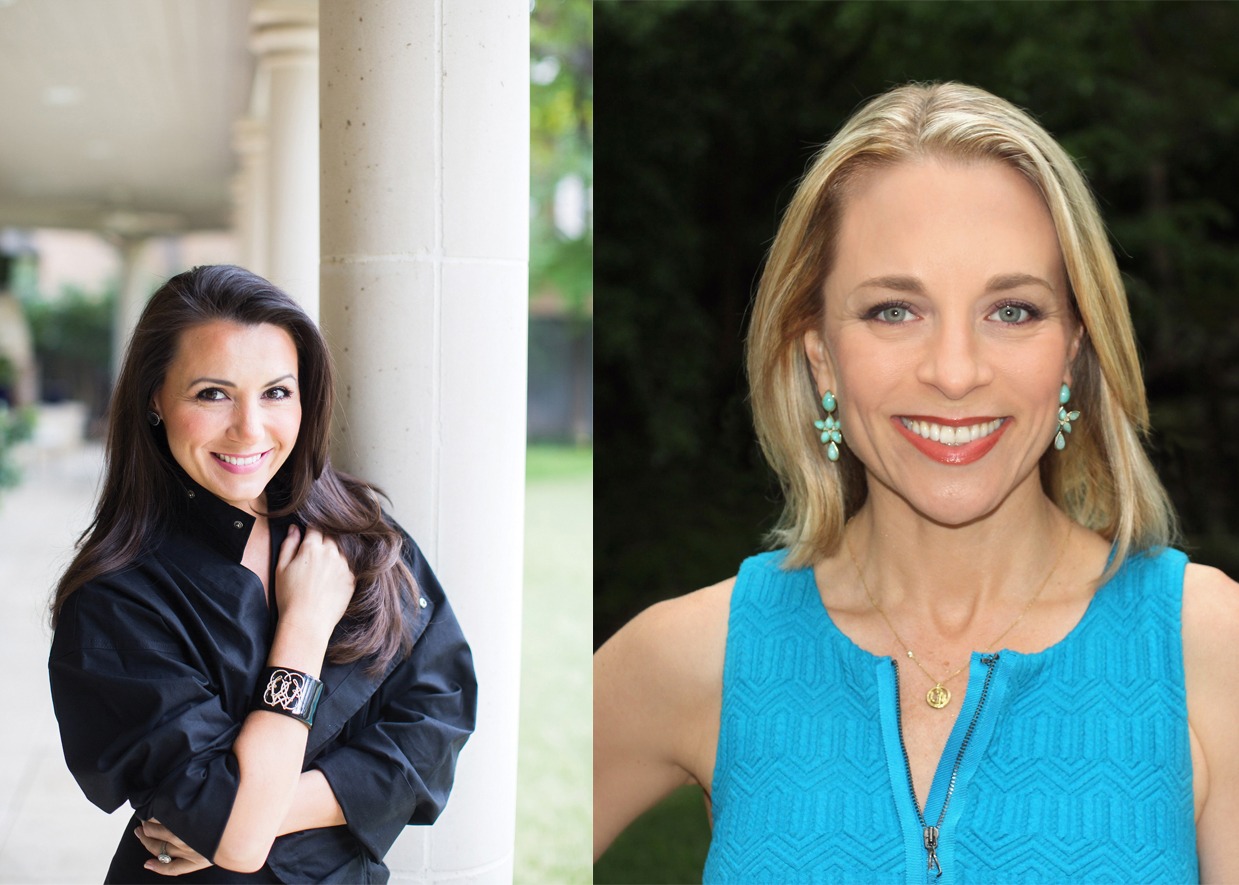 Kim and Elizabeth
We are looking forward to having Kim signing her book at our showroom on November 3rd from 1-3pm. My daughter, Elizabeth Showers, will be at my showroom from November 2-6 during Dallas' Partners Card with her jewelry. Twenty percent of sales from the books and jewelry will go to The Family Place.
Hope to see you then!